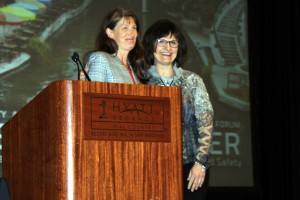 For Geralyn Altmiller, associate professor of nursing at The College of New Jersey, incorporating patient safety and quality care education as a component of comprehensive nursing school curricula should be a guiding principle for any successful nursing program. It just makes sense. That is why she was so taken aback when she learned that she'd been selected by a panel of her peers from across the country as the recipient of the inaugural Linda Crownenwett Quality and Safety Education for Nurses (QSEN) Leadership Award.
The award, bestowed upon Altmiller at last week's National Forum of the Quality and Safety Education for Nurses Institute in San Antonio, Texas, acknowledges emerging leaders in the QSEN field for their commitment to the education of nurses and student nurses through exemplary vision, influence, critical thinking and role-modeling. It is named for Linda Crownenwett, a pioneer in advancing quality and safety education, who transformed nursing curricula at institutions of higher education throughout the country.
"It is an honor to receive this award and I am humbled to be recognized by my colleagues in this way," Altmiller said of receiving this significant acknowledgement from her colleagues.
Altmiller, who guided the successful implementation of QSEN curricula while at LaSalle University in Philadelphia and is currently establishing TCNJ as the Quality and Safety Education for Nursing Institute's first regional affiliate, was nominated for this prestigious award by her colleague, Susan Reeves, professor and dean of Colby-Sawyer College's School of Health Professions.
"I can't think of a more deserving individual," said Reeves. "I have known Linda Cronenwett since 1985, and have long admired Linda's passion, intelligence, humanity and ability to lead nurses. I see all of those same qualities in Dr. Altmiller. She is an up and coming leader for not only QSEN, but for our profession at-large," she added.
Altmiller's visionary approach to curriculum development, research and scholarship around quality and safety education is also consistent with the overarching goals of TCNJ's exceptional nursing program.
"Patient safety and quality care are priorities in healthcare and for us in our nursing program," said Carole Kenner, Carol Kuser Loser Dean of TCNJ's School of Nursing, Health, and Exercise Science. "We are so fortunate to have Dr. Altmiller's leadership in transforming our nursing curricula to include QSEN competencies and, in turn, transforming our nursing workforce."
About QSEN: The Quality and Safety Education for Nurses Institute is housed within Case Western Reserve University's School of Nursing. The Institute offers teaching modules, evidenced-based research, cost-conscious care strategies and academic scholarship opportunities for participating nursing school faculty across the country. Dr. Altmiller serves as a Strategic Board Member for the Institute.
—Tom Beaver