TCNJ has once again been recognized as a "Great College to Work For" by The Chronicle of Higher Education, a premier news and information source for college and university faculty and staff.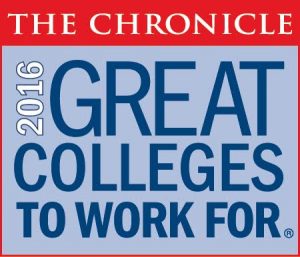 The results, released today as part of The Chronicle's ninth annual report on the academic workplace, are based on survey responses from employees at 281 colleges and universities throughout the country.
This marks the second time in three years that TCNJ has earned distinction as a "Great College to Work For" in the tenure clarity and process category. The college was once again the only New Jersey institution featured on the list.
"It is extremely rewarding to have this level of confirmation and recognition that our faculty and staff feel valued and appreciated," said Gregory Pogue, TCNJ's Vice President for Human Resources. "We truly believe our employees are one of our most valuable assets, and being named as a 'Great Place to Work for in 2016' is evidence that we encourage and support a rewarding work environment."
Of the 281 colleges and universities surveyed by The Chronicle, only 93 were recognized on the list.
"Nine years in, The Chronicle's Great Colleges to Work For program is well known as a mark of a college or university that puts thought and effort into serving the needs of its faculty and staff," said Liz McMillen, editor of The Chronicle. "The colleges and universities that make the list are highly rated by their employees for creating great working environments, an important achievement that helps them recruit top academic and administrative talent."
The survey results reflect a two-part assessment process: an institutional audit capturing demographic and workplace policies from each institution, and a survey administered to faculty, administrators and professional support staff. The primary factor in deciding whether an institution received recognition was employee feedback.
---
-Tom Beaver