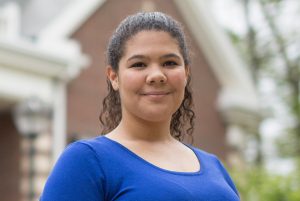 Symone Yancey '16 scored offers of admission from seven of the nation's top law schools, and then parlayed them into a full ride at Columbia University to study civil rights law. But how did the first college graduate from a working-class family in Somerdale, N.J., do it?
Yancey, 22, is down-to-earth about her secret: Hard work and determination paid off once she set her goal. "I knew I was meant to go to law school and that it had to be Columbia," she said. "I had to do this."
Yancey developed her love of law from constant contact with social justice. Growing up with liberal beliefs in a socially conservative family, Yancey believes she "came out of the womb arguing about social issues." She also feels impacted by them as an African-American woman. Her father, who works on rail lines for PATCO, is black; her mother is white; and her adoptive grandmother is Puerto Rican. These various sides of Yancey's identity empowered her to advocate for awareness and change.  
"I've always been outspoken about the injustices that were personal to me, but also the struggles faced by other marginalized groups," Yancey said. "I want to be involved in the issues – race, sexual orientation, civil rights in general — and I think the best way to bring change is to work through the courts."
Studying at the college took her involvement to the next level. Thanks to her professors in political science, Yancey "became obsessed with the judicial system." She excelled in constitutional law and penned two research papers on social issues. She thrived on the debate team and even served as a campus ambassador. In every activity, Yancey immersed herself with relentless focus, but she never took her eyes off the prize: earning a seat at Columbia Law School.
For a year in advance, Yancey prepared for the LSAT. Nerves got the better of her on test day, though, so she "burned" the scores and began anew. She tackled every logic problem to have appeared on the test since 1991 and leaned on former debaters for an extra ounce of confidence. On her second and final test day, the strategy proved successful, and she would soon be accepted to Harvard, Penn, the University of Chicago, NYU, Georgetown, Boston University, and of course, Columbia.
With law school approaching this fall, Yancey's already charted her newest goals: clerking for a federal judge, then eventually becoming one herself. But it's the journey there that's most rewarding.
"[Getting to Columbia] I know I set out to do something and achieved it, which makes me feel more confident than I ever have," Yancey said. And now? "I just want to be a part of making the world a fairer and more equal place for everyone."

—Toni Martin, with additional reporting by Tom Kozlowski