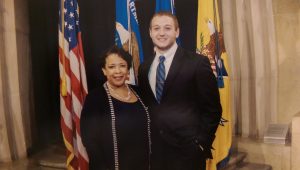 Tom Cilla's fellow students may be hard-pressed to top his "What I Did On My Summer Vacation" essay.
As an intern with the United States Solicitor General's office in Washington, D.C., Cilla was witness to two landmark rulings by the U.S. Supreme Court. He heard Justice Stephen Breyer read the majority opinion in Whole Woman's Health v. Hellerstedt, in which the court struck down parts of a Texas law that would have severely limited abortion access in the state. And he heard Justice Anthony Kennedy read the majority opinion in Fisher v. University of Texas, in which the court upheld the constitutionality of the university's affirmative action program.
"We were able to actually go to court to hear the opinions released by the justices. I can't even think of the words to describe that atmosphere," Cilla says. "It was absolutely incredible—one of the coolest things I've ever been a part of."
Cilla '17, a political science major from King's Park, Long Island, was one of only four applicants—and one of only two undergraduates—selected for the two-month internship with the Solicitor General, who is charged with representing the United States government before the Supreme Court. While Cilla's day-to-day assignments consisted of routine clerical duties, he also got to log briefs for an online database that the solicitor general's office is building, including briefs filed in such cases as Brown v. Board of Education of Topeka, Kansas, which led to the historic 1954 ruling declaring racial segregation in public schools to be unconstitutional.
On his first day on the job, Cilla and his fellow interns met with Solicitor General Donald Verrilli Jr., who had successfully defended the government's position in two historic cases concerning the constitutionality of the Affordable Care Act and same-sex marriage. "That was incredible, given his history in front of the court," Cilla says. "Just to be in front of him is just surreal."
Heady stuff for someone who aspires to work in the field. Cilla became interested in constitutional law from a single course he took in high school, and he remains fascinated by the legal interplay between governmental authority and individual rights. He plans to go to law school and pursue a career focused on civil rights.
"It's something that's always interested me," he says. "There are still people that need to be advocated for under the law to ensure there's equal protection."
—Christopher Hann