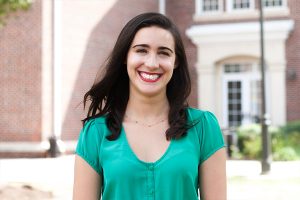 Alyssa Freitas always wanted a career in sales. She trained for it in mock sales competitions and her courses as a management major. This summer, however, she wanted to match her passion for sales with her interest in technology, and a 10-week internship at IBM offered the perfect balance, placing her in the heart of Manhattan as a software sales specialist.
But the internship afforded Freitas another opportunity: channeling her love of writing into a weekly blog that she shared on her LinkedIn profile. A steadfast blogger since 2014, the senior penned an open book on her trials and triumphs as a sales specialist. From the anxiety of sending prospecting emails to building relationships over waterfront oysters, her posts hit all of her highs and lows. What surprised her was the response they sparked across the company.
"The biggest thing with blogging was the connections that came from it," says Freitas. "I reached out to anyone who liked, commented or shared one of my posts, and that's when I realized it wasn't just IBM employees reading — it was people from other companies, too. I became recognized at external events as 'that blogging girl!'"
By blogging her journey, Freitas opened doors to projects and people beyond the scope of sales. She even flexed her writing and networking skills to connect with employees at IBM's downtown Watson Center, home of the supercomputer made famous competing on Jeopardy! There she engaged with cognitive computing by visiting the computer and doing some reference writing for the Watson team.
"I loved the flexibility it afforded," she says of the internship. "You were able to network with people across the organization—it just came down to your own initiative."
Freitas left no stone unturned, seeing and doing so much of what IBM had to offer. But it was only by being vocal, both in her blog and her interactions, that she scored the opportunities she did. She encourages other students to do the same, and to not be bashful about selling themselves.
"Any intern can find value by sharing their experience through writing or some other way that puts forward who they are and how they're valuable," she says.
---
—Tom Kozlowski '16