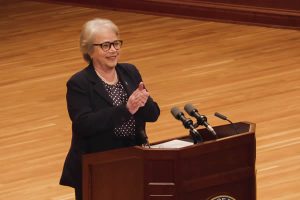 In her 2016 Welcome Back address, TCNJ President R. Barbara Gitenstein reflected on recent tragedies domestically and abroad as well as the unprecedented divisiveness that threatens to suffocate constructive dialogue. Highlighting the college's many accomplishments over the past year, she called on the campus community to embrace its special responsibility as a leader in higher education by confronting violence and prejudice through civility and respectful disagreement.
Evoking poet Emily Dickinson's warning that "we grow accustomed to the Dark/ when light is put away/ as when the Neighbor holds the Lamp/ to witness her Goodbye," President Gitenstein outlined her vision to position TCNJ as the neighbor that holds the lamp not as a sign of farewell, but rather to show the way forward.
"Institutions of higher education must become the neighbor that holds the lamp to light the way rather than to witness a goodbye; that light must disperse the darkness of accusation and name calling," said Gitenstein. "It must kindle sustained dialogue, active listening and civil disagreement. While we must make individual commitment to the enterprise, we can only be stewards of democracy as a community."
To prepare TCNJ to take on this ambitious challenge, Gitenstein announced that the college has partnered with the Sustained Dialogue Institute to develop community-focused programming to transform confrontational relationships. The Sustained Dialogue Institute develops comprehensive training for campus communities in the facilitation and moderation of constructive dialogue, offering a roadmap for conflict resolution and inclusive leadership.
"The process of sustained dialogue requires attention to interpersonal relationships, acknowledging power differentials, the complexities of differing interests and perceptions and the difficulties of interaction in a multicultural, multiracial community," Gitenstein said. "Because it is dialogue, such dialogue should not happen in silos but across divisions, across sectors, across stakeholder groups and of course across racial, religious, sexual orientation and gender identities. This will be hard and in some cases it will be painful, but it is our work to do."
Gitenstein concluded her remarks by indicating that Provost Jacqueline Taylor, Vice President of Student Affairs Amy Hecht and Associate Vice President of Human Resources Kerri Tillet would be reaching out to the campus community in the coming weeks with details about these important collaborative initiatives.
Read President Gitenstein's full remarks.
---
-Tom Beaver