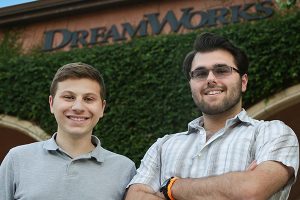 Senior interactive multimedia (IMM) majors Ryan Laux and Chris Lundy made the most of their summer internship in Los Angeles, seizing, exploring, and absorbing whatever they could as videographer interns at DreamWorks Animation.
Working for the training department, Laux and Lundy were responsible for filming, editing, and posting critical software classes for reference and teach-back purposes—invaluable assets at a company that relies heavily on commercial and proprietary software. The pair was also tapped to film an impressive roster of guest speakers, including a visual effects artist for Star Wars and a DreamWorks animator who worked on The Lion King and Beauty and the Beast.
Both agree that one of the biggest benefits of their job was interacting with heavyweight talent across departments and mining the experience of industry veterans. For two lifelong interactive media enthusiasts, these exchanges further fueled the drive to evolve their craft and make their mark.
"Video is one of the most effective ways of communicating a story," says Laux. "It's one of the most powerful forms of communication there is."
Perhaps the biggest reflection of their success as interns was the assignment to create a new recruitment video for the internship job they just completed. They spent the last days of their summer at DreamWorks Animation producing a video touting the position they felt so fortunate to hold. "It's the interns' view of the internship," explains Laux—and clearly a sought-after one at that.
So what's next for Lundy and Laux? This fall, they'll continue to produce on-campus videos, plus put on two seminars—one for TCNJ and one for Trenton-Ewing residents—as recipients of the 2016 Polansky Fellowship. The workshops will teach basic filming and editing skills, plus the fundamentals of telling a great story. They are excited to spread their passion for film and give back to the TCNJ community they feel has given them so much.
"The college has given us a lot of freedom to create," says Lundy. "IMM really made TCNJ the only choice for me—and it's been the right one."
---
—Courtney Thompson