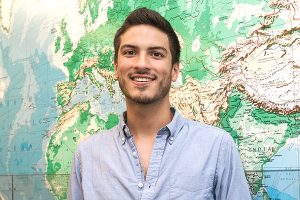 How does an English major from New Jersey end up spending his summer in Tajikistan?
For Kenneth Estrada '17, a love of language led him to a gig teaching English as a foreign language, and an internship for the the Tajik Community Based Tourism Association in Tajikistan's capital city of Dushanbe.
A native of Perth Amboy, New Jersey, Estrada has led ESL—English as a second language—courses since he was 14. In the process, he has "seen what language can do and what doors can be opened by language."
"When I saw all the service internships they had in Dushanbe, I knew I had to apply," he says.
Arriving in June to the mountainous country, Estrada set to work. For three days a week he taught EFL courses, instructing a range of students from beginners to college-caliber speakers. On the other two days he served as the communications and outreach intern for the tourism association—editing translations, polishing their website, and working with entrepreneurs and donors to develop new attractions.
Yet what struck him most throughout his stay was the unrivaled kindness of the people he met.
"I have never been greeted with the amount of respect and genuine kindness that I encountered in Dushanbe," says Estrada. "It was the kind of warmth that made you want to cry: extremely candid and unadulterated, because to them, visitors are like gifts."
Estrada's trip was marked by the month of Ramadan, a holy period of fasting and prayer for the Islamic community in Dushanbe during which he shared in Eid al-Fitr—the traditional breaking of the fast that marks the end of Ramadan—with local families.
"I got to see firsthand how resilient the people are," he says. "Can you imagine getting up at 8 a.m., taking a bus to your English class when you haven't had breakfast, listening to some guy you don't understand all that well, and still maintaining your candor and compassion? It gives you energy just to witness their strength."
These are experiences any English major could read in a book, he says, but only by traveling abroad and interacting with an unfamiliar culture could an English major like Estrada truly make them his own.
---
—Tom Kozlowski '16