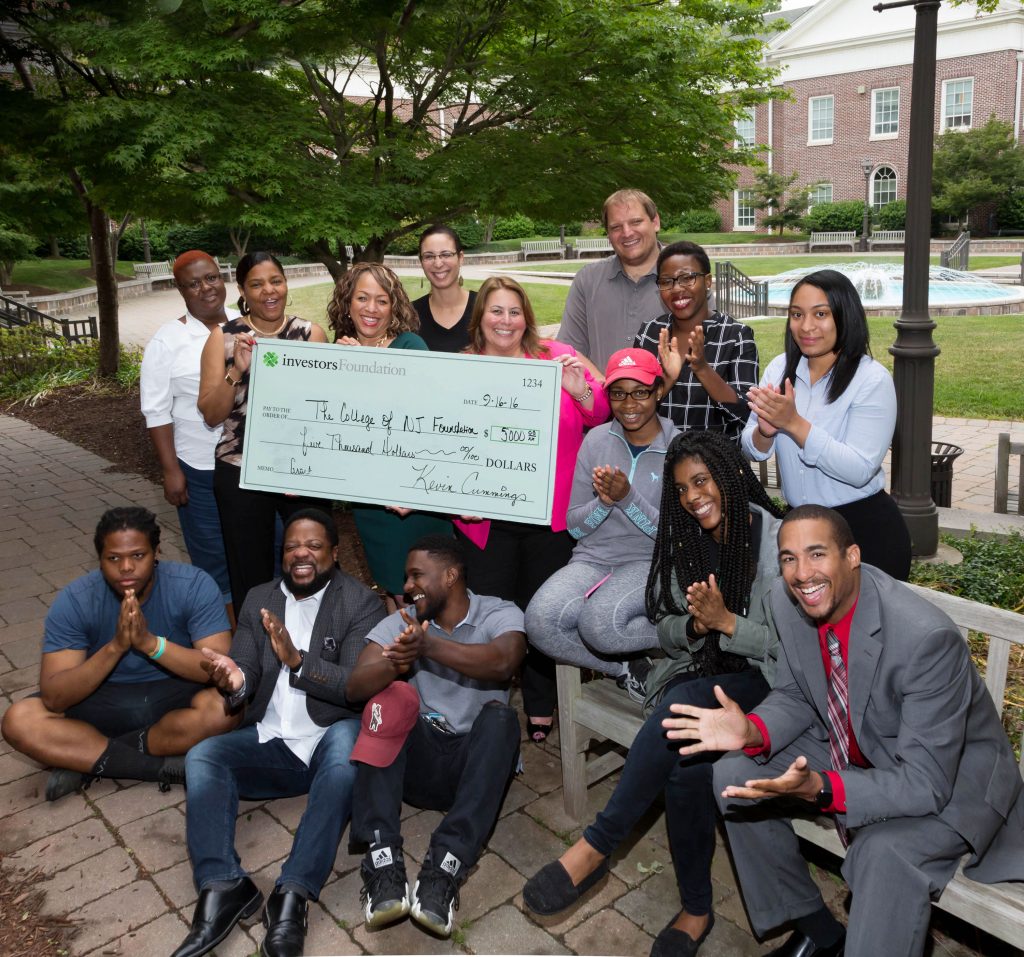 Students hoping to attend TCNJ will have access to even more educational opportunities, thanks in part to a $5,000 grant from Investors Foundation to the college's Educational Opportunity Fund (EOF). The grant will help fund programs that assist students in adjusting to college life, through guidance, financial support and tutoring.
"Your generous gift makes the world of difference for students who are full of promise," said Tiffani Warren, Director of EOF at TCNJ. "Investing in the Educational Opportunity Fund Program at TCNJ directly impacts making education affordable and earning a degree possible."
The funds from the Investors Foundation will support the EOF Promise Awards. According to Warren, studies show the transition from high school to college is when students are most at-risk academically. The EOF Promise Awards enable students to attend college at virtually no cost as freshmen and sophomores. In subsequent years, work-study, loans, and other funding sources assist them with obtaining a degree, helping them to focus entirely on academic success.
Since its inception in 1968, more than 1,300 students have earned their degrees from TCNJ as participants in the program.
EOF at TCNJ applied for the grant from the Investors Foundation, which supports non-profit organizations that enrich diverse communities served by Investors Bank. This is the third year Investors has supported the program.
"The Educational Opportunity Fund is more than just a financial package. EOF provides support in so many ways to these students, and Investors couldn't be more proud to assist EOF in that mission," said Maria Tramo, Investors Bank Assistant Vice President, Branch Manager – West Trenton.
The vision of the EOF is to challenge all students in the program to graduate in four years with academic excellence, a passion for lifelong learning and strengthening their communities, and a desire to cultivate a culture of service and alumni Promise Endowment support. The program's core values are relationship-building, innovation, a culture of community and respect, self-development, and accountability.
About the Investors Foundation
Investors Bank, headquartered in Short Hills, New Jersey, is a full-service community bank that has been serving customers since 1926. With over $21 billion in assets and a network of more than 145 retail branches, Investors delivers personalized services and products tailored to the needs of its customers. Investors' banking services include complete deposit, loan and cash management products for consumers and businesses. The Investors Foundation supports non-profit organizations that enrich the quality of life in the communities the Bank serves. To date, the Foundation has dispensed more than $15 million to support initiatives ranging from community and civic improvements to the fight against diseases. Investors Bank. Member FDIC and Equal Housing Lender.