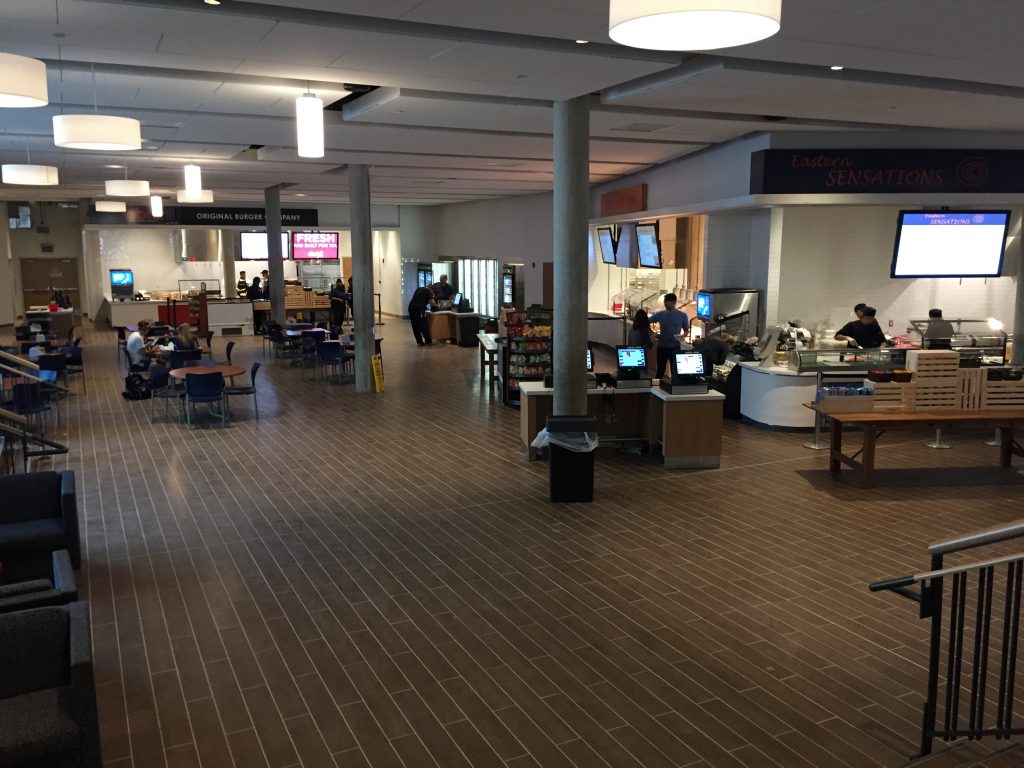 Despite the quiet calm of fall break, word spread quickly on Monday that the newly renovated Lions Den Food Court in the Brower Student Center was open for business.
Curious lunch-goers poured in from around campus, eager to be among the first to see what's been happening behind the temporary walls and experience the new eats.
The spacious servery comprises four individual stations:
Eastern Sensations (sushi and Asian hot food concept)

Pizza, Pasta & Co. (pizza by the slice and authentic pasta dishes)

OBC Grill / Original Burger Company (burgers, chicken sandwiches, vegetarian and bread-free options for lunch; made-to-order breakfast sandwiches)

SubConnection (sub sandwiches on freshly baked bread, soups)
With one day in the books, "The Original Burger Company and the SubConnection are the most popular right now, with Eastern Sensations a close third," says Patrice Mendes, general manager for Dining Services.
Sophomores Eliana Aerts and Richard Bustamante stopped in after receiving a Snapchat from a friend who had eaten there earlier in the day. The pair, who both enjoyed sandwiches from SubConnection, said they'd definitely come back to try the other stations. "But it will probably be just as crazy as it always was during Meal Equiv*!" says Aerts.
The previous iteration of the food court closed on April 15, 2016 so that crews could begin the transformation. When the final phase of Brower Student Center construction is complete, there will be new dining seating in the current atrium area in addition to seating near the food stations. Until then, overflow seating is available in the west side of the new event area.
Mendes says that the finishing touch to the eatery will be new furniture, which will arrive during the spring semester.
An official ribbon-cutting ceremony for Lions Den is scheduled for Monday, Oct. 17 at 11:15 a.m.
Regular hours of operation are Monday through Thursday, 7 a.m.–8 p.m., and Friday, 7 a.m.–5 p.m. Additionally, Lions Den will operate from 9 a.m.–5 p.m. during Homecoming on Saturday, Oct. 24.
Visit www.tcnjdining.com for information about all of TCNJ's dining options.
*Now that Lions Den is back online, T-Dubs and Fresh Pride Cafe will no longer accept meal equivalency.
---
—Emily W. Dodd '03, Digital Content Editor