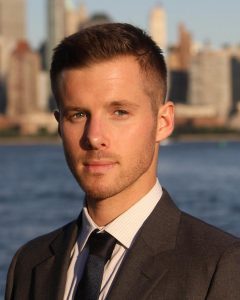 Daniel Giovenco's '10 interest in health communication began during his years as a communication studies major at the college. Just six years later, he's parlayed this passion into a master's and doctorate in public health, both from Rutgers University, a faculty position with Columbia University's Mailman School of Public Health and, most recently, a $1.25 million grant from the National Institutes of Health (NIH) to support his research on racial disparities in tobacco marketing.
Giovenco was one of just 16 recipients of funding under NIH's Early Independence Award program for 2016. The program identifies exceptional young scientists who have recently completed their PhD or MD studies, enabling them to bypass traditional post-doctoral training by transitioning into independent research positions right away.
"The program continues to support high-caliber investigators whose ideas stretch the boundaries of our scientific knowledge," said NIH Director Francis S. Collins, MD, PhD. "We welcome the newest cohort of outstanding scientists to the program and look forward to their valuable contributions."
With his award, Giovenco will spend the next five years gathering field research and survey data to determine whether community characteristics influence tobacco marketing and, consequently, racial and ethnic disparities in tobacco use.
Though he's covered a lot of ground since his time at TCNJ, Giovenco attributes much of his success to the tutelage of faculty and staff within the college's communication studies department.
"I'd put my (TCNJ) degree up against any Ivy League education," said Giovenco, "My time at the college meant so much in my development, particularly the commitment to collaborative undergraduate research that guided my decision to pursue a career in public health research and higher education."
---
—Tom Beaver, Head Media Relations Officer