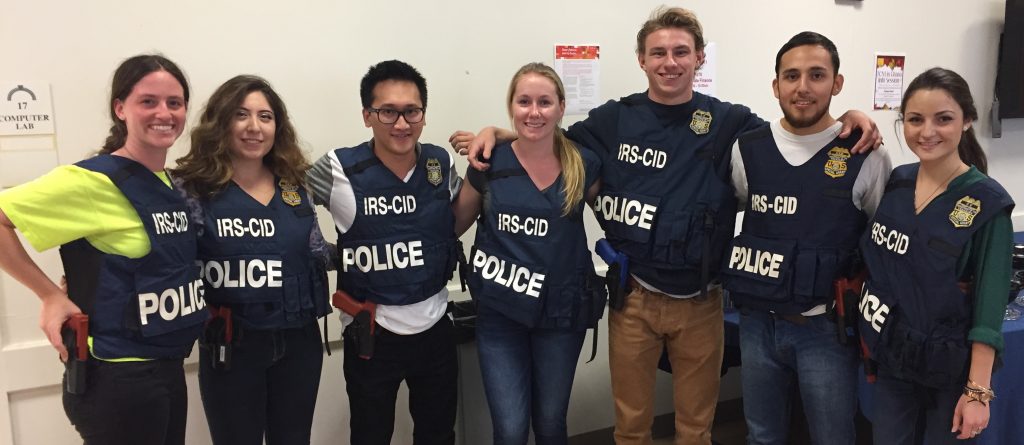 Suiting up in bulletproof vests, handcuffs, and mock handguns, 26 accounting majors assumed their new identities.
"Holster up," instructed an Internal Revenue Service Special Agent. "When I say 'draw,' let 'em know who you are … DRAW!"
As the students drew their training weapons, they shouted, "Police! Federal agent! Hands up!"
Over the course of eight hours, the unassuming group transformed into IRS special agents, investigating a tax-fraud-turned-terrorism-financing-scheme in a simulation known as The Adrian Project. Developed by the Criminal Investigation Division of the IRS, the project gives students a glimpse into a side of accounting that doesn't involve sitting at a desk.
"We want to open their eyes to opportunities they didn't know existed," said IRS Special Agent Robert Glantz.
During the mock investigation, students heard from a criminal informant and pored over financial records looking for clues and red flags.
"In class we study how to make balance sheets and make sense of tax returns," said sophomore Michael Ludwig. "Here, they slapped them on the table and we had to put the pieces together."
But it wasn't all an exercise in crunching numbers. Students also conducted interviews with informants and witnesses, received defensive tactics training including how to properly make an arrest, surveilled subjects around campus, and eventually arrested the perps.
Current and retired special agents role-played the parts of CI and suspects, forcing students outside of their comfort zones while conducting interviews with at times hostile and uncooperative witnesses, and trailing potential suspects around campus to watch their every move.
"When we were interviewing a subject, it was terrifying," said Jennifer Pasternack '19. "He was genuinely angry and defensive."
But Ludwig dug the hands-on experience—literally.
"I dug through a men's bathroom trash can and two other trash cans," he said. "I found two tax returns and a receipt that one of the suspects threw out." Evidence which no doubt led to the issuing of the arrest warrant he needed to close the case. 
Glantz says that while most accounting students probably aren't thinking about a career in law enforcement, "it's a great match because accounting students really understand money, and that's where so much of the crime is."
---
—Emily W. Dodd '03, Digital Content Editor