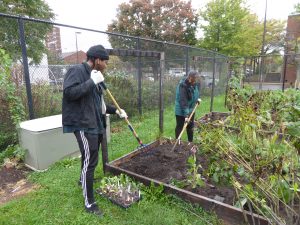 Pouring rain and cold temperatures didn't stop nearly 200 students and staff members from participating in the 2016 Day of Service on Saturday, Oct. 22. Participants spent the day volunteering at 15 sites across Mercer County, from Hamilton to Downtown Trenton.
"We aim to make a concentrated impact in a relatively short amount of time to demonstrate to participants and the community the effect that groups of people can have when they work together," said Michael Nordquist, interim executive director of the Center for Community Engaged Learning and Research at TCNJ.
While some students assisted with the preservation of New Jersey history at the recently reopened 1867 Sanctuary in Ewing and the Ewing Township Historic Preservation Society's Benjamin Temple House at Drake Farm Park, others worked to maintain and plant at local community gardens with partner organizations such as Isles, Inc. in the Old Trenton neighborhood and the historic Trinity Cathedral in Trenton's West Ward.
"These organizations are doing this every day. We get to do it occasionally," said Nordquist. "We want to give as many opportunities to as many people possible to get out there and do this on a regular basis as well."
Other projects included:
Programming for local children at HomeFront's facility in the Lawrence Community Center
Producing a Trunk or Treat program at A Better Way, Inc. in Trenton
Painting walls at the Princeton Deliverance Center in East Trenton
Organizing offices at Habitat for Humanity in Trenton
The 2016 Day of Service was presented by TCNJ's Center for Community Engaged Learning and Research in partnership with the Division of Academic Affairs and the Cultural and Intellectual Community Program Council. It was established in 2015 to honor the legacy of Pat Donohue, the center's former director.
According to Nordquist, the day "is a way to bring to life the commitment that TCNJ has to the region, to the community, and to Trenton."
Follow #TCNJServes on Twitter and Instagram for more photos.
---
—Jared Kofsky '20