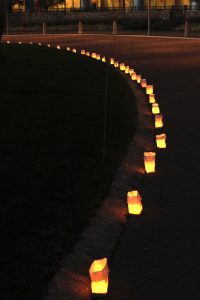 On December 5, luminary kits will pop-up on driveways in and around Mercer County, interspersed among a patchwork of holiday decorations. It's a familiar sight for many; the hallmark of Womanspace's "Communities of Light" campaign.
TCNJ President R. Barbara Gitenstein, who has led a multi-year effort at the college to support victims of power-based violence and increase awareness of domestic abuse and sexual assault, will serve as this year's Honorary Chair.
Womanspace is a Mercer County-based non-profit that provides services and support for children and families who are victims of domestic violence. Through its "Communities of Light" campaign, the organization seeks to raise awareness about the prevalence of such violence through the powerful imagery of luminaries. Thousands of volunteers participate in the lighting and also post "virtual luminaries" to their social media platforms.
"The College of New Jersey is proud to have a long-standing partnership with Womanspace in supporting the survivors of power-based violence," says Gitenstein. "Womanspace is an extraordinary organization that provides critically important support and services for victims of domestic abuse and sexual assault."
Gitenstein participated in the campaign launch this week and will work from now until December 5 to further enhance participation in "Communities of Light."
"Reducing or eliminating domestic abuse and sexual assault requires a huge societal shift," Gitenstein says.  "Raising awareness and engaging our entire community is a crucial part of affecting that societal shift and strengthening all of our efforts."
---
—Tom Beaver, Head Media Relations Officer