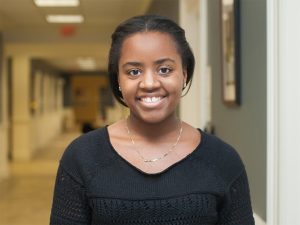 Jaritza Eusebio used to be the shy girl. At least that's how she saw herself before the handshake at a TCNJ Opportunities Fair that led to her spearheading a special project for Johnson & Johnson's financial team.
Growing up in Camden, New Jersey as the oldest of three girls, the senior management major is first in her family to attend college. She came to TCNJ as a scholarship winner, thanks to the Education Opportunity Fund, and immersed herself in new opportunities.
"I forced myself into uncomfortable positions because that's how you grow professionally and personally," she says.
And she was right. By stepping out of her comfort zone, she found her dream job at the college's annual career fair.
"I've been interacting with recruiters at the [Opportunities Fair] since my freshman year, and Johnson & Johnson has always presented their values with such clarity," she says. "Their representatives are so passionate about their jobs and their family-friendly environment, and that's important to me as a family-oriented person."
With her heart set on the company, Eusebio landed an internship with a surprising set of responsibilities.
She was prepared to work with accounts, debits, and credits—typical skills in an accountant's wheelhouse. But to her surprise, her manager tasked her with an independent project: building a new and improved system for uploading the company's quarterly earnings. Not only that, she was asked to train over 70 high-level managers through an online seminar.
"It was nerve-racking, but also rewarding," she says. "I didn't feel like just an intern, but a contributor to the team."
With more and more managers adopting her system, Eusebio's impact has echoed across the company. Now she hopes to pursue a career with Johnson & Johnson when she graduates in May.
But most of all, she hopes to continue setting a good example for her family at home and abroad.
"I'm proud I can give my parents the chance to say they raised their first college grad," she says. "I'm proud I can return to the Dominican Republic and encourage my little cousins to continue their education. Maybe if I hadn't served as a role model, my two younger siblings wouldn't have pursued higher education. But I'm proud—and I'm grateful—that I can lead my family in the right direction."
---
—Tom Kozlowski '16