Lindsay Frevert '05, MEd '10, had no idea a school-wide assembly would turn out to be a surprise celebration to recognize her as one of the nation's most outstanding teachers.
But that is what happened when Frevert, a second grade teacher at Van Derveer Elementary School in Somerville, New Jersey won the 2016 Milken Educators Award and a cash prize of $25,000.  
"I couldn't believe it," says Frevert. "It is such an honor, I thought I was going to pass out."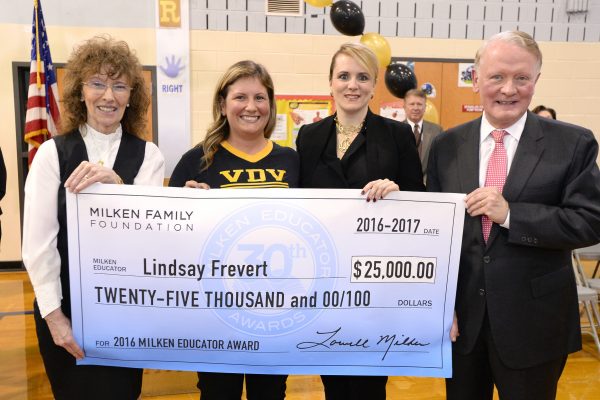 The award, which has been referred to as the "Oscars of Teaching," targets mid-career education professionals who go above and beyond for their school community. Jane Foley, senior vice president at the Milken Family Foundation, along with New Jersey Acting Commissioner of Education Kimberly Harrington MEd '10, and Somerville Public Schools Superintendent Timothy J. Purnell, presented Frevert with the award.
"Lindsay's compassion for students and their progress both inside and outside of the classroom is exemplary," said Foley. "From working to accommodate the instructional needs of every child to encouraging her peers to support student families, she is truly helping to shape students' futures and strengthen the community at large." 
Frevert has been a force throughout the entire Van Derveer community, academically and socially. Last year, 67 percent of the students in her class started out reading below grade level; by the end of the year, 95 percent were reading at or above grade level. She started a walking school bus and every Wednesday she walks along a route and picks up students and walks them safely to school. For her co-workers, she organized a committee to boost staff morale.
Frevert was one of only 35 educators nationwide to receive the award this year, and the sole recipient from New Jersey. To date, four other TCNJ graduates have received the prestigious Milken: Kimberly Jacquay '99, James Gleason '90, Jill Stauffer '89, and April Lowe MA '03.
The most heartwarming part of receiving the award for Frevert was the smiles and hugs from her current students and notes of congratulations from former students.
"This award just motivates me to give more, to do more for the students."
---
—Kara Pothier MAT '08