TCNJ President R. Barbara Gitenstein announced the formation of The College of New Jersey Advisory Commission on Social Justice: Race and Educational Attainment, which will be charged with leading a promised campus conversation following revelations last fall about the legacy of the namesake of one of the campus' buildings.
"The commission will help the college think about what should be the best institutional response in the face of Dr. Paul Loser's history as brought to light by the students who were conducting archival research under Dr. Rob McGreevey," said Gitenstein.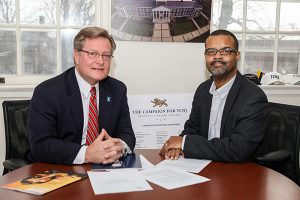 While the commission will pay particular attention to Dr. Loser's legacy as superintendent of Trenton Public Schools, the president will also ask it to reflect on how this history has an impact on our current understanding of the complex issues and questions related to race relations, social justice, and educational attainment.
"I am delighted that President Gitenstein has prioritized these issues and set them as the foundation for TCNJ's self-reflection," said Associate Professor of History Christopher Fisher, who will co-chair the commission with Vice President for College Advancement John Donohue.  "They are consistent with our mission and our role as the premier college in this region.  We have assembled an outstanding group of institutional and community stakeholders who are sure to foster healthy dialogue and produce meaningful outcomes."
The commission will be comprised of 18 people. It will include a former trustee of the college, a member of the president's cabinet, four faculty members, four students, four members of the staff, and four members of the local community.
"TCNJ's story is so closely tied to Trenton and Ewing, it was clear to us that we couldn't do this important work without involving local community members in the process," said Donohue. "Beyond the four who will serve with us on the commission, we will also be reaching out to those who lived the history."
Dr. Gitenstein will ask the commission to conclude its work and provide her with advisory recommendations by June 30.
"The commission's report will acknowledge the truth of what happened in the past, but it must also address how we make a difference in the present," said Gitenstein. "Our goal is to address not just the history of race relations, social justice, and educational attainment, but to also explore programs, actions, and initiatives that seek to remediate instances of inequality and prejudice going forward."
---