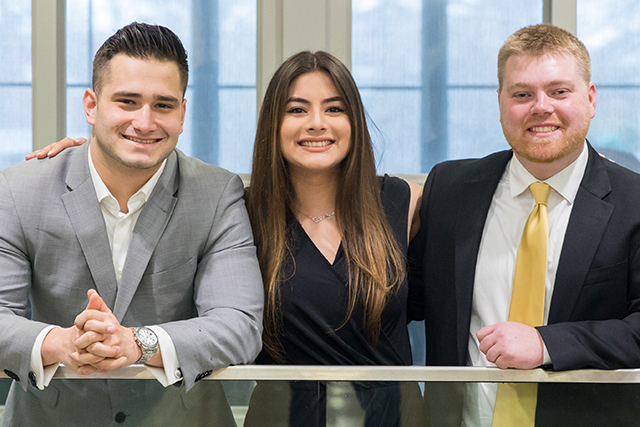 If Tyler Gambardella hadn't been so strapped for time a year ago, he wouldn't be a CEO today.
Attempting to balance all aspects of his busy college life—classes and homework, a co-op at Johnson & Johnson, serving on the exec board of his fraternity—left little room in his schedule for things like laundry and errands.
He begged his friends for help with his chores. "Would someone PLEASE do my laundry?" he'd text through a group chat. His buddies would help him out…at a cost.
"They started hustling me," says Gambardella '17. "I thought, 'There had to be a better way!'"
And born was Handl, Gambardella's brainchild and the $30,000 first-place winner of the college's 2017 Mayo Business Plan Competition.
Handl is a digital marketplace, accessed through an app, that provides users with the opportunity to outsource their everyday tasks and errands. Similar to popular services like Uber and Lyft, Handl allows commissioned employees—"Handlers"—to earn money during their free time as they take on chores for the time-strapped.
Unlike TaskRabbit, their closest competition, Handl lets users choose Handlers from a hyperlocal area, thanks to their geomapping feature. Handlers can also bid their price for a task, making it a more competitive marketplace. And, Handl isn't looking to sweep into big cities; they plan to carve out their niche in smaller communities, like college campuses.
True to the spirit of the app, Gambardella had a pair of handlers to help him build his vision—Carolina Gamarra '18 and Patrick Monaghan '17, who round out the company's executive team. Gamarra, a marketing major, guides the company's marketing and branding, while Monaghan, an interactive multimedia major, is the tech guru who developed and continues to refine the app to Gambardella's specifications.
The Mayo Business Plan Competition, Gambardella says, cemented his dream of being an entrepreneur.
"I realized I'd never be truly happy working nine-to-five and making someone else rich," he says. "You hear about businesses that start as a small idea and they just blow up. No one tells them what to do or when to wake up… that's why we had to go for this idea."
With their $30,000 in spoils, Handl is in the process of forming an LLC, drafting terms and conditions for the app, and working feverishly to release a beta version of the app by the end of the summer. Members of the TCNJ campus community can expect to be among the first to give Handl the proverbial test drive, so start making your "to-do" lists.
—Emily W. Dodd '03
About the Mayo Business Plan Competition
The Mayo Business Plan Competition is designed to increase student appreciation for the challenge of developing a viable business. Through an iterative process the MBPC recognizes those students best able to articulate a plan that addresses these challenges. In recognition of both the time involved and difficulty of the task, the competition provides a substantial reward for the successful teams.
TCNJ students from all majors are welcome to participate. Students with ideas that translate into viable business products or services can come from virtually any school and major. Each team must be comprised of no less than two and no more than four current TCNJ students.