When freshman biology major Kerstin Baran decided to attend a build-day for her high school's Habitat for Humanity chapter, she inadvertently ignited her own passion for giving back.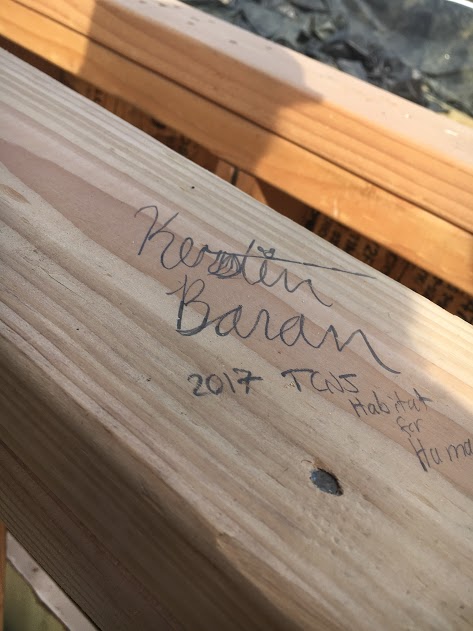 Together, with a team of Habitat for Humanity members and construction-volunteers, Baran and the team from Hunterdon Central High School was able to put a roof over the heads of a family in need in Morristown, New Jersey.
Baran was inspired.
Fast-forward to her first year at TCNJ, she hoped to continue her work. When Baran learned that the college had not had an active Habitat for Humanity club for the last 10 years, she created her own.
"Habitat for Humanity has given me a cause to be passionate about," Baran says. "Starting Habitat at TCNJ has provided me with the opportunity to express my passion in a way that I hope will also inspire others."
Upon the re-building of TCNJ's Habitat for Humanity Club, Baran forged a partnership between TCNJ students and Trenton Habitat's youth group through a tutoring program. "Habitat for Humanity mainly focuses on providing housing," she says, "but they also provide other services that can holistically help strengthen communities."
In February, Baran saw her work with TCNJ's Habitat come to fruition at a build in Trenton. Baran and her team installed structures for fire walls on the roof of a unit where seven families will be living.
"Being able to see the families on the day they move into their house is heart-warming and empowering," she says. "It reminds me of how much I take for granted every day."
TCNJ's next build will take place in Trenton this Saturday, April 29, and 20 students are signed-up to attend.
Baran hopes to one day be a pediatric dentist, but knows that her work with Habitat will never be far from her heart. She says, "volunteering for Habitat has given me an "in-touch" perspective," one that she will surely take with her in all her future endeavors.
---
—Samantha Roberts '17