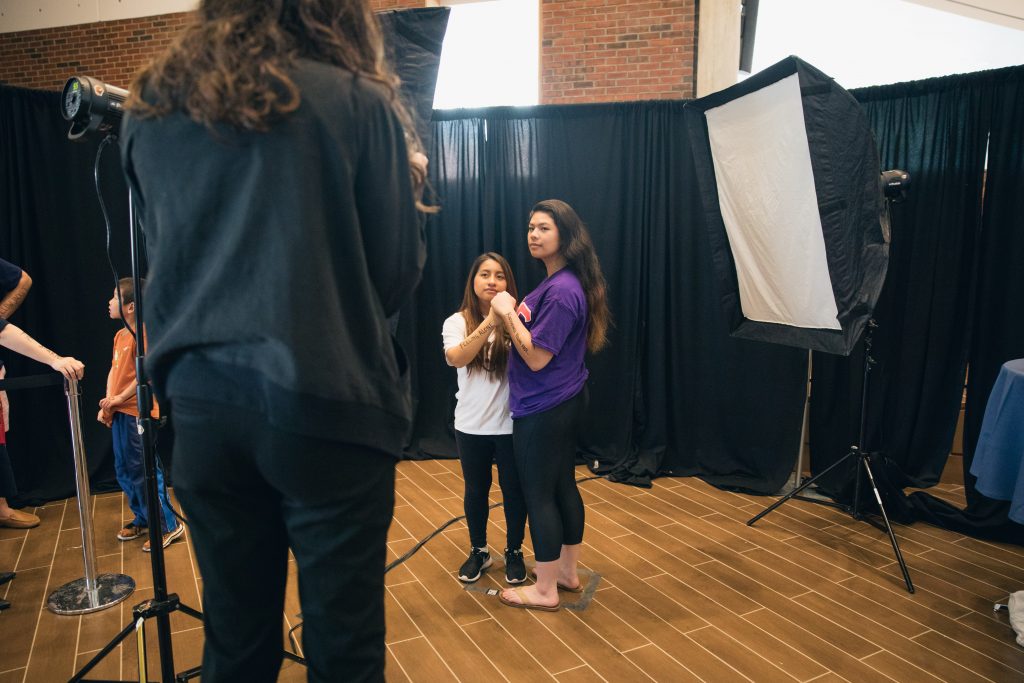 It started in 2009 as a project for New Orleans residents to write love notes to their city. Today, Dear World is an organization that brings hope to individuals around the country by allowing them to showcase their own personal story. Dear World's mission is simple: despite our differences, we as community are more connected than we realize.
On Thursday, April 27, TCNJ students, faculty, and staff had the opportunity to share their own experiences—ones of struggle, hope, joy and fear—with the campus community. They not only spoke their words, but were able to be professionally photographed with a word or phrase of their choice written somewhere on their body.
"It's not really about the picture today, it's about the kind of conversation that comes out of that picture," said Office of Leadership intern Ceili Boles '17.
That evening, students continued the conversation and reflection at the photo reveal and story-telling event, where four of them shared their personal struggles with the crowd of over 300 students. Brianna Antoniello '19 was one of them.
Antoniello, who had "shhhhh" written on her body, partook in Dear World's event to express how she's grown as an individual. Before coming to TCNJ, Antoniello often felt silenced.
"I found a new self confidence in college, especially this year as a sophomore," Antoniello shared.
Avani Rana, director of leadership in TCNJ's Division of Student Affairs, hopes that by having Dear World come to the campus, students will realize the importance of expressing themselves.
"I thought bringing Dear World to TCNJ would be a great way for TCNJ students to share their stories," says Rana. "We do a lot of monologues on campus, and Dear World was a way to bring may of them together so that students could share what was important to them, all in one place."
Check out the entire Dear World: Live at TCNJ gallery on Facebook.
---
—Nicole DeStefano '17