TCNJ students Scott Borton and Julie Scesney received the Benjamin A. Gilman International Scholarship this year.
Borton '20, an international studies major with a specialization in global health, development, and environment, will study at Kansai Gaidai University in Hirakata City, Japan, for the full academic year. The $5,000 award will fund his homestay with a Japanese family.
Through this experience, Borton hopes to take advantage of international networking opportunities, as well as enhance his cultural and political expertise of the Far East.
While he has taken vacations to Mexico, Honduras, and Belize in this past, he has not yet studied abroad.
Scesney '18 is also an international studies major, with minors in Spanish and creative writing. Her travels will take her to Viña del Mar, Chile, at the Universidad Adolfo Ibañéz.
Scesney chose Chile in order to practice her Spanish-speaking skills.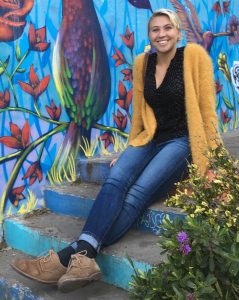 "I could have gone to Spain, but I figured that I will have many opportunities to travel to Europe, but would have significantly less opportunities to live in South America for four months," she says.
Her award of $4,500 will fund much of her trip.
The trip to Chile, which began at the end of July and will last through November, will be Scesney's first time studying abroad. She went on a mission trip to the Zomba region of Malawi in 2014, but has not yet been immersed in another culture for an extended period of time.
"I definitely think I caught the travel bug, and hope to travel more after I graduate," she says.
Scesney plans to focus her studies on Latin American poetry while she is away, and hopes to host a poetry night at TCNJ when she returns. In the future, she would like to be a professor of literature.
About the Gilman Scholarship
The Benjamin A. Gilman International Scholarship Program offers grants for US citizen undergraduate students of limited financial means to pursue academic studies or credit-bearing, career-oriented internships abroad. Such international exchange is intended to better prepare U.S. students to assume significant roles in an increasingly global economy and interdependent world.
Visit the Center for Global Engagement for more information about studying abroad at TCNJ.
---
—Catherine Bialkowski '18