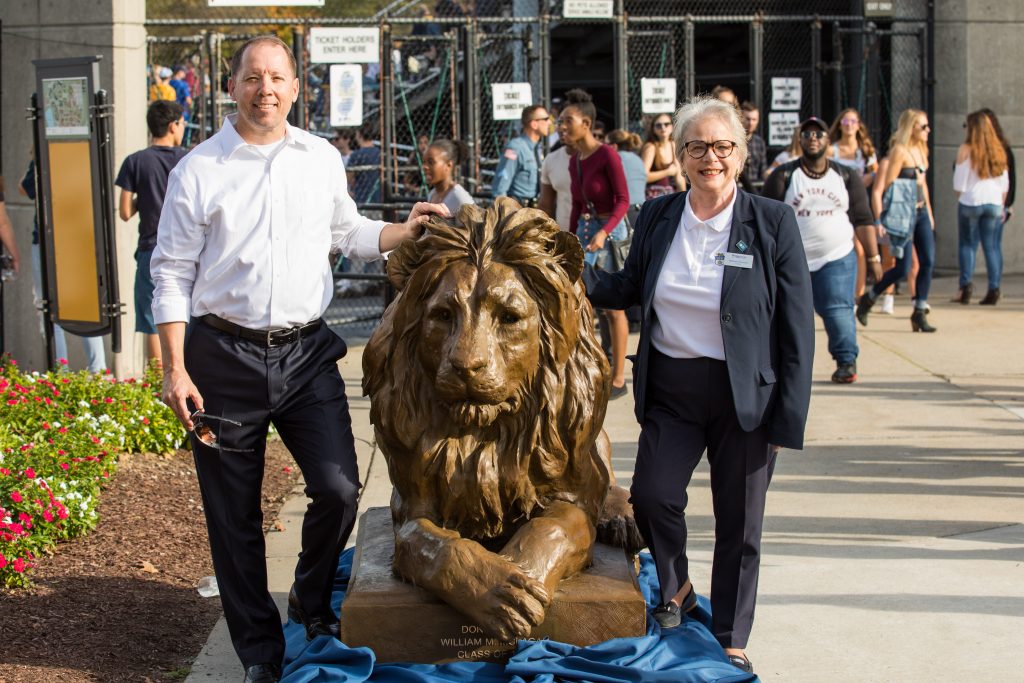 If you attended homecoming last weekend, perhaps you caught a glimpse of him or even rubbed his nose. He's three feet high and 3,000 pounds, with a perfectly bronzed complexion.
We are of course talking about the William M. McLagan (Trenton State College, Class of 1987) Lion, the newest campus adornment, which was officially unveiled at homecoming on Oct. 21.
The sculpture is a gift from McLagan, a retired career Army officer who achieved the rank of colonel. Because of his time spent in the military, McLagan understands the importance of well-recognized symbols in building a team, as well as the importance of a well-appointed campus in promoting school spirit and college pride. The lion has been the college's mascot since 1934.
"It gives me great joy to think about this lion gracing the college campus for the enjoyment of future students to come," said McLagan. "It is my hope that this lion statue will continue to promote school spirit in the student body and encourage alumni to become more engaged with the college."
Award-winning artist Herb Mignery, a bronze sculptor with more than 40 years experience, designed and fabricated the piece at Art Castings of Colorado, a full-service, world-class bronze foundry in Loveland, Colorado.
The bronze statue will be placed permanently near the Brower Student Center and AIMM building in the spring.
View the full dedication presentation:
---
—Emily W. Dodd '03