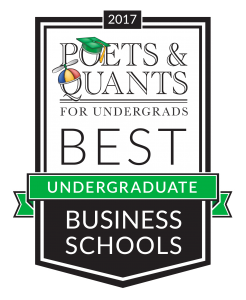 TCNJ's business program placed #44 among undergraduate business programs in the nation, according to rankings released today by Poets&Quants.
"TCNJ's School of Business has consistently placed among the top undergraduate programs in the country," said William W. Keep, Dean of the School of Business. "Our 2017 Poets&Quants ranking further demonstrates the quality, affordable business education we deliver and I thank our faculty, alumni, students, and staff for this remarkable achievement."
As part of the rankings process, Poets&Quants asked members of the Class of 2015 to rate their schools on 15 different prompts, one of which was "Would you recommend the business program to a close friend or colleague?" TCNJ received an A+, the highest possible score, in this area.
Along with the full rankings, the publication provides in-depth feature profiles on all 50 schools including information such as the percentage of students receiving scholarships, percentage of students graduating with debt, and how specific schools excel and perform compared to other schools.
"This is the most thorough data-driven study of undergraduate business education ever undertaken," said John A. Byrne, Founder and Editor-in-Chief, Poets&Quants for Undergrads. "At a time when parents and students are confronting ever increasing tuition bills and levels of debt, the return-on-investment of a degree is more important than ever. We measure those returns and it's no wonder that more parents are encouraging their children to major in business.
Developed in collaboration with business school deans and administrators, Poets&Quants for Undergrads' methodology is based equally on admissions standards, academic experience, and employment outcomes.  View the full list of 2017 rankings.
Poets&Quants also included TCNJ faculty members Dr. Herbert B. Mayo, professor of finance, and Dr. Kevin Michels, professor of marketing & interdisciplinary business, on its inaugural Top 40 Undergraduate Business Professors list.
Poets&Quants is the leading online publication for undergraduate and graduate business education news.
---
—Luke Sacks