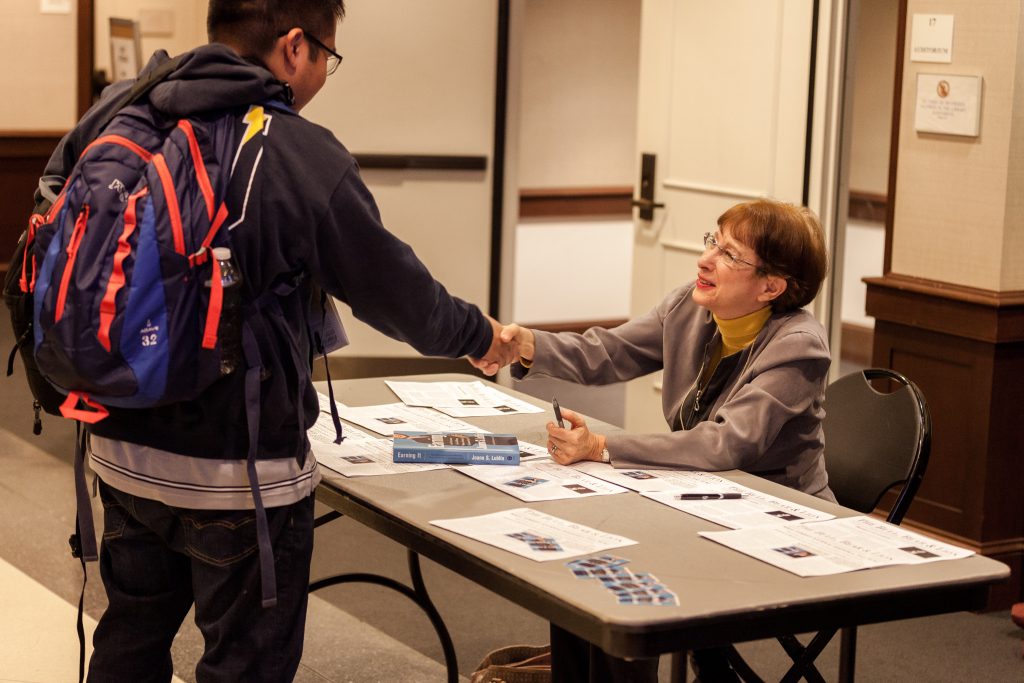 On Nov. 30, Joann S. Lublin, management news editor at The Wall Street Journal, spoke to a packed Mayo Concert Hall at The School of Business's Business Leaders Talk.
Lublin, a Stanford grad, told the crowd about the obstacles she's had to overcome as a female journalist, beginning as soon as she finished graduate school and during a time when the field was overwhelmingly male-dominated. While that didn't stop her from making her way to the top, she repeatedly experienced evidence of the ways in which women and men in the workplace were—and still are, she says—treated differently.
After sharing her story, Lublin ended her talk on a very positive note, sharing three tips— applicable to both men and women—for how to succeed in business as well life:
"If you don't ask, you don't get." The worst that can happen, she explained, is to be turned down—if you don't ask, the answer is essentially "no" anyway. You lose nothing by trying.
"Use humor rather than anger." In order to get along with peers, says Lublin, it's important to stand up for yourself. Using humor can keep a situation lighthearted while still solving the issue at hand.
"You're going to have to get out of your comfort zone to develop your leadership muscles." Often, she says, taking a calculated career risk is worth it—and can be a door-opener.
About Joann S. Lublin:
As management news editor of a major publication, Lublin oversees the coverage of workplace and management issues, working with reporters all over the world. Lublin shares her own story and the stories of more than 50 other high-achieving businesswomen in her new book, Earning It: Hard-Won Lessons From Trailblazing Women at the Top of the Business World, published by HarperCollins in 2016. The book explores the inspiring ways women have been able to shatter the corporate glass ceiling, and offers helpful advice for aspiring entrepreneurs at the end of each chapter.
---
—Catherine Bialkowski '18