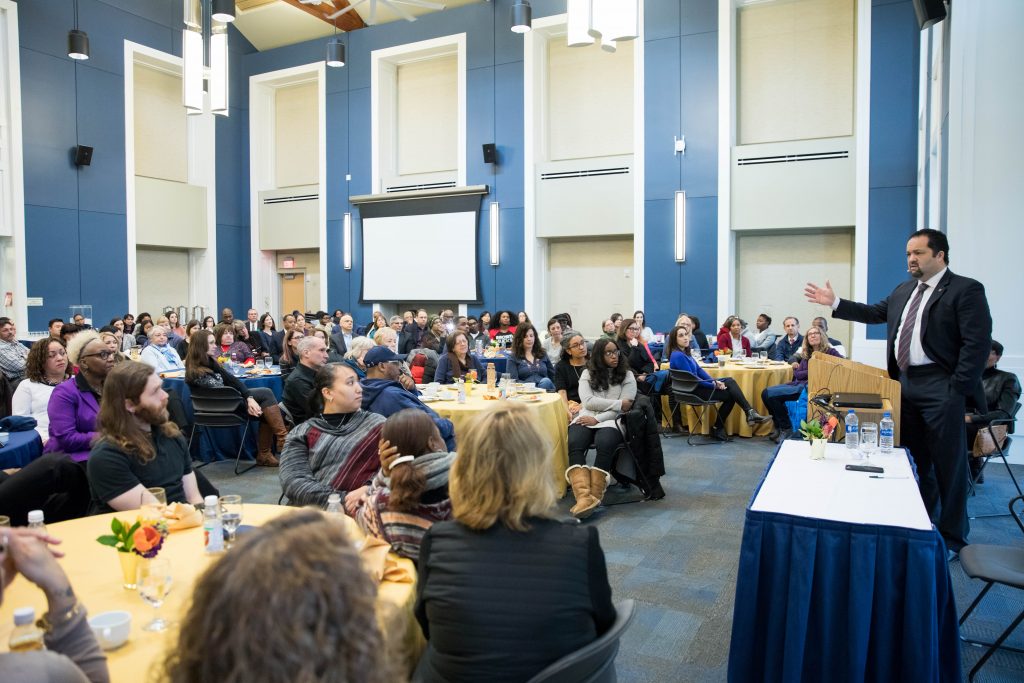 In commemoration of MLK Day, the campus community gathered on January 15 for breakfast and welcomed Benjamin Jealous, civil and human rights leader and former president and CEO of the NAACP. He spoke of political tension, U.S. history, defining moments in his own life, and where the current climate might lead us—but three key messages stood out the most:
It's important to stay positive rather than focusing on the negative.
"It's easy, in a volatile moment, to focus on the negative," says Jealous. "There is always a reason for positivity, even in moments of fear."
We are more connected with each other than we think.
Jealous quotes Martin Luther King Jr., in that "We are caught in an inescapable network of mutuality, tied in a single garment of destiny. Whatever affects one directly, affects all indirectly."
Pick one big thing.
Use your time on earth and commit yourself to one big goal. Jealous decided to dedicate his life to increasing the level of justice in our justice system. He says it's easy to pick—just jot some ideas down on a sheet of paper, close your eyes, and circle one, and then work toward that goal. "Eventually, you might be in front of a big group of people and the crowd says, 'That brother is on fire!'" he says. But where it starts is more like the old spiritual, "This Little Light of Mine." "The light burns inside of you and guides you, casting just enough light to order your steps. Follow the steps the light is showing you."
---
—Catherine Bialkowski '18