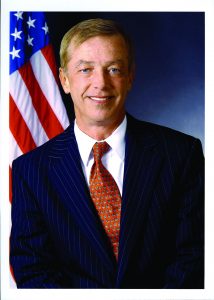 The James P. Fox Memorial Fund, in partnership with The College of New Jersey and Montclair State University, announces the establishment of two mentorship initiatives designed to cultivate a new generation of public sector professionals (#FoxMentors). The programs, The Jamie Fox Scholars Program at The College of New Jersey and The Jamie Fox Forum on Public Service at Montclair State University, honor the legacy of Jamie Fox, who died in February 2017 and who spent his entire career in public service.
"For Jamie, public service was a life's calling that fueled a thriving 40-year career and spawned many important policy achievements," says Eric Shuffler, a fund trustee. "Jamie was especially passionate about mentoring young people and encouraging careers in government service. These two programs, funded by the Fox Memorial Fund, will provide students with real-life experience and advice that will provide a foundation for more young people to seek, obtain, and succeed in public sector jobs."
The Jamie Fox Scholars Program at TCNJ was launched in January. Five TCNJ students (see below) have been named Jamie Fox Scholars. Each will receive one-on-one mentoring and field-based training and participate in a half-day symposium at TCNJ that will feature public sector leaders, keynote address, panel discussion, roundtables, and a networking reception.
"We are beyond excited and grateful to these two institutions for working with us in developing these dynamic programs, which honor Jamie's wish to fund educational opportunities for students, particularly in government and other public-sector professions," says Tom Fox, Jamie's brother and fund trustee. "Jamie deeply believed in the higher purpose of government service and in delivering results to the people of New Jersey. These two programs give students concrete ways to explore how they too can make a difference through public service."
"Jamie was an extremely talented public servant whose loyalty, honesty, and respect for others earned the admiration of both parties," said TCNJ President R. Barbara Gitenstein. "As a tribute to his lifelong commitment to public service, we have created this program to promote a similar commitment among generations of students who will pursue careers dedicated to the public good."
TCNJ's spring 2018 Jamie Fox Scholars are:
Heather Atamian '18, criminology
Dillon McNamara '18, political science
Daniel Nason '18, economics
Nancy Rae Pietrobon '18, sociology
Corrine Winters '18, international studies
---