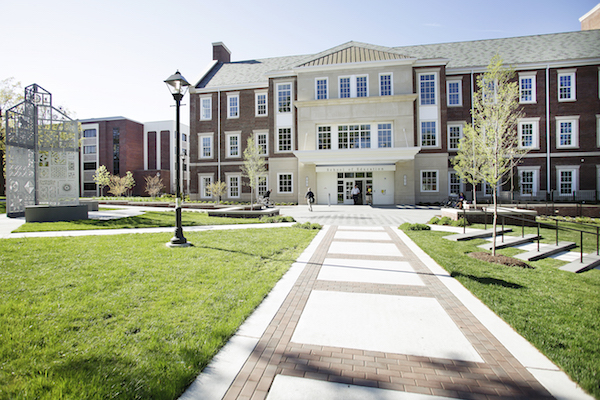 The College of New Jersey has the sixth highest four-year graduation rate in the nation among public colleges and universities, according to newly published data by the U.S. Department of Education.
"Many families expect that college will be a four-year endeavor, but too often that is not the case," said TCNJ President R. Barbara Gitenstein. "Time to degree matters. Students who finish in four years will pay less, borrow less, and get started in their careers more quickly."
Gitenstein, who will retire at the end of June, made helping undergraduates finish in four years a focus of her 19-year tenure at the college. The academic transformation overseen by Gitenstein placed an emphasis on high-impact learning practices and helped the college's four-year graduation rate climb from 64 percent in 2004 to the current rate of 75 percent.
"This high number reflects TCNJ's commitment to getting students to graduate on time," said Lisa Angeloni, vice president for enrollment services. "Over the past decade, TCNJ has invested significantly in resources that support students meeting four-year graduation goals, including expanded academic advising and counseling, more January and summer course options, an on-track to graduation advising model, and proactive outreach to students who aren't on track to graduate on time."
U.S. Public Colleges and Universities
Bachelor degree within 4 years

Rank
Institution Name
Graduation rate
1
University of Virginia—Main Campus
88
2
College of William and Mary
85
3
University of North Carolina at Chapel Hill
84
4
University of Michigan—Ann Arbor
77
5
University of California-Berkeley
76
6
The College of New Jersey
75
7
University of California—Los Angeles
74
8
University of California—Irvine
71
9
University of Delaware
71
10
SUNY at Binghamton
71
11
SUNY College at Geneseo
71
Source: U.S. Department of Education, IPEDS (Published December 2017)
---