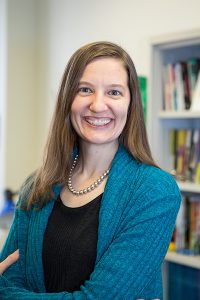 As a sociologist, Elizabeth Borland has studied reproductive rights in Argentina for nearly 20 years. Now with the support of the Gitenstein-Hart Sabbatical Prize, she'll extend her research to the neighboring countries of Chile and Uruguay.
"It's an opportunity to explore contemporary abortion rights movements at a time when unprecedented policy changes have made abortion more accessible," she says.
Over the past five years, she explains, there have been major changes in these three countries that once firmly prohibited abortion—changes that have occurred largely thanks to robust social movements.
Through fieldwork in all three countries, Borland will gather data to explore how this activism has led to policy changes, how the changes are implemented, and how activists continue their fight to guarantee and expand women's access to reproductive choice.
The sabbatical prize will support two fieldwork trips to South America this summer and next spring, respectively, and afford her the time to evaluate her data and work on a book manuscript—a new animal for her, she says—that will contribute to literature on social movements, gender, law and society, and Latin American studies.
And after five years serving as department chair of sociology and anthropology, Borland is eager to revitalize her scholarship with this project.
"I've done a lot of service over the past five years, and to reenergize my research this way is inspiring," she says. "To have the encouragement of President Gitenstein and her husband, Don Hart, is really exciting. Now I'm able to go full steam ahead with my scholarly work."
---
—Emily W. Dodd '03