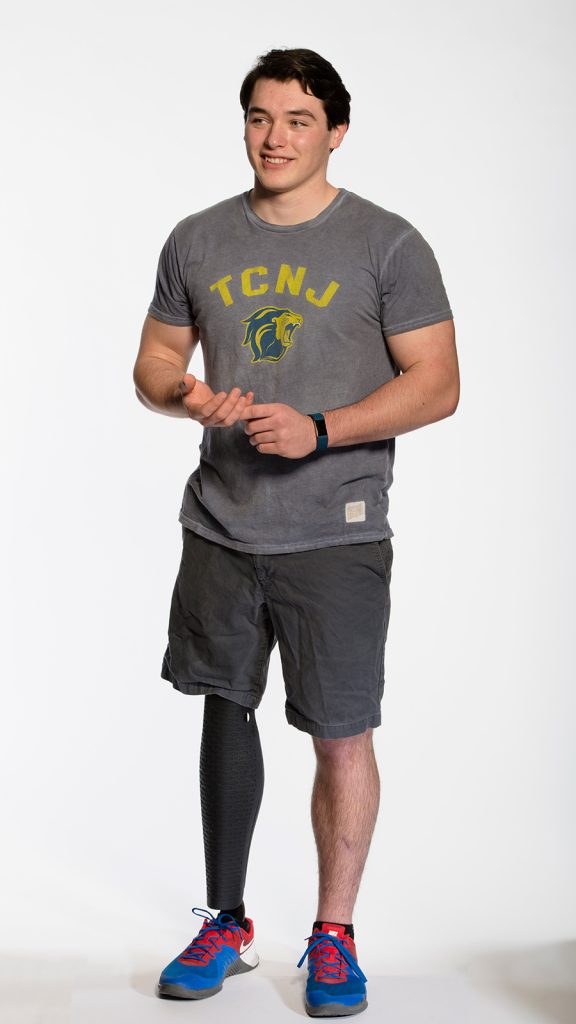 Q and A with:
Jack Wallace '20
Biomedical engineering
Jack Wallace '20 first hit the ice when he was just three years old. Hockey soon became his favorite sport, as he loved the speed and physicality of the game. But in July 2008, when he was 10, a freak waterskiing accident put his playing days on hold. The boat's propeller sliced through his right leg above the knee and his leg had to be amputated.
A year after his injury, he discovered the sport of sled hockey, and it quickly became apparent that the injury had not diminished his athleticism. "You've got to keep moving forward and see what you can do to make something out of it," says the biomedical engineering major.
Now, a forward on the USA sled hockey team, he is headed to the Paralympic Winter Games in PyeongChang, South Korea. Opening ceremonies begin March 9.
What is sled hockey?
Everything in sled hockey is the same as ice hockey except for two things: the sleds and sticks. Instead of wearing skates, we sit in metal frames with ice blades attached to the bottom. As for the sticks, each player uses two sticks, which have metal picks on one side which we use to dig in the ice and propel ourselves across the rink.
What went through your head when you learned you made the Paralympic team?
So many emotions went through my head! Once the excitement and joy settled I was mostly left with a feeling of responsibility to train as hard as I could to represent my country to the best of my ability.
Would your 10-year-old self have believed you could be an Olympic athlete?
No way in hell would I have ever believed it if someone told me back then that I would be doing this now.
Will you bring home the gold?
The whole team believes we are the best. We are not planning on settling for anything less than gold.
What is your typical routine like on campus?
My routine changes depending on the day, but for the most part I try to get a solid breakfast at Eick then head to class. After classes, I hit the gym for an hour plus then study for a bit. In the afternoons, I drive to a rink to get a skate in. I try get as much work done as possible before passing out at night. Balancing hockey and training on top of an engineer's workload has been very challenging. The administration and professors have been extremely cooperative in helping me achieve this honor.
What does your training schedule look like now that you've made the team?
The whole team has moved out to Chicago and we train twice a day, every day.
How do you think the Paralympics can help change the perceptions people have of people with disabilities?
It is very interesting to see the variance between how different countries treat disabilities. Some are more accommodating than others. The Paralympics definitely help show disabilities from a positive perspective, especially in countries that don't have as much exposure to it.
Goals for the future (beyond scoring goals for team USA)?
My goal right now is to graduate on time and get a job where I can directly help people in the biomedical engineering field. I would like to develop and design prosthetic limbs.
Any "lucky charms" that will be in your luggage to South Korea?
Yes. There's one shirt that I always wear under my jersey during big games.
What's the hashtag that best describes your life right now?
#RoadtoPyeongChang2018
---
—Kara Pothier MAT '08