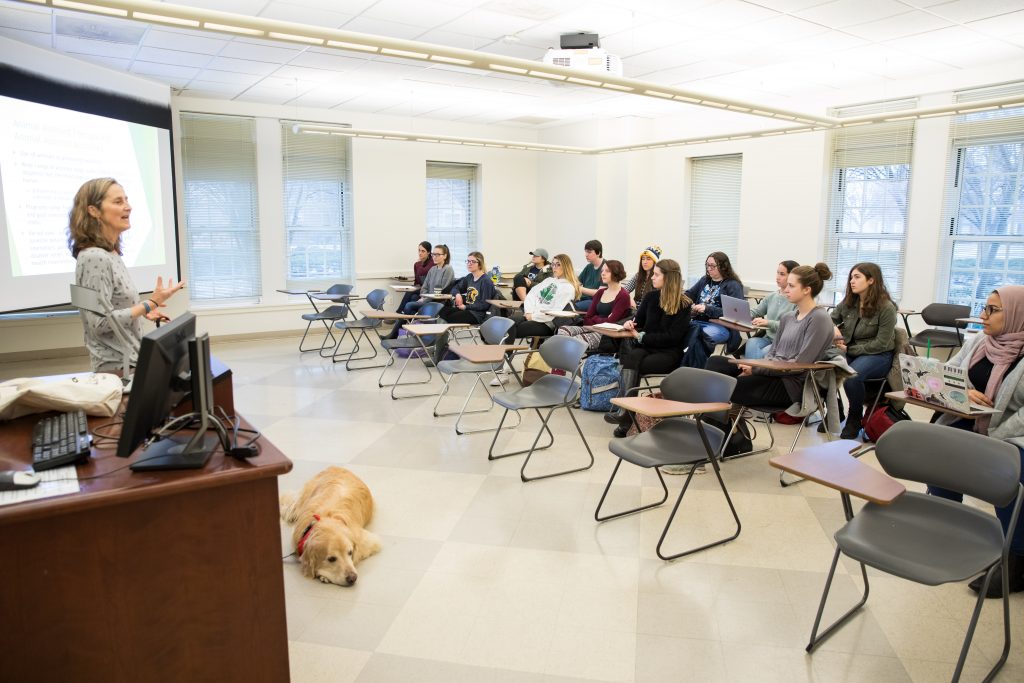 It's not often you walk into a classroom to attend a presentation and find that it's going to be given, in part, by a dog.
Bob the golden retriever recently accompanied his owner, psychology professor Jean Kirnan, for a talk on animal-assisted intervention: the use of animals to promote human wellness.
Bob,10, is Kirnan's family pet and her professional partner. As a certified therapy dog, he goes on regular visits to West Belmar Elementary School, where children read to him in small groups as part of a dog-assisted literacy program called Tail Waggin' Tutors. According to Kirnan, the program is effective in teaching students both reading and behavioral skills.
"Dogs offer unconditional acceptance and are non-judgmental listeners, which helps reduce the stress and anxiety often associated with reading," says Kirnan, who visits the Kindergarten classroom once a week for an hour.
To aid in reading, a student might give Bob a short pat upon reaching a comma and a long pat for a period. To help with behavior, the teacher might ask students to show Bob how to sit still and listen to the story. Over the past several years, Kirnan and her TCNJ student researchers have crunched the numbers in an effort to see if reading to a dog makes a difference.
The short story on dog-assisted literacy? Kirnan's data shows that it works.
"In the first year of the program, children in the dog-assisted reading program performed better on a reading test than the prior year's classes who did not have the dogs," says Kirnan. "Interviews with teachers and dog handlers support these findings as they reported interest, self-confidence, increased risk taking, and enthusiasm from the students."
Being in the presence of a dog can lower stress levels and blood pressure, and creates a calming effect, and a calm and happy attitude can work wonders, especially for children learning to read.
"A main goal is to make reading a fun and happy experience," says Kirnan. "More positive attitudes will hopefully lead to more reading."
---
—Catherine Bialkowski '18