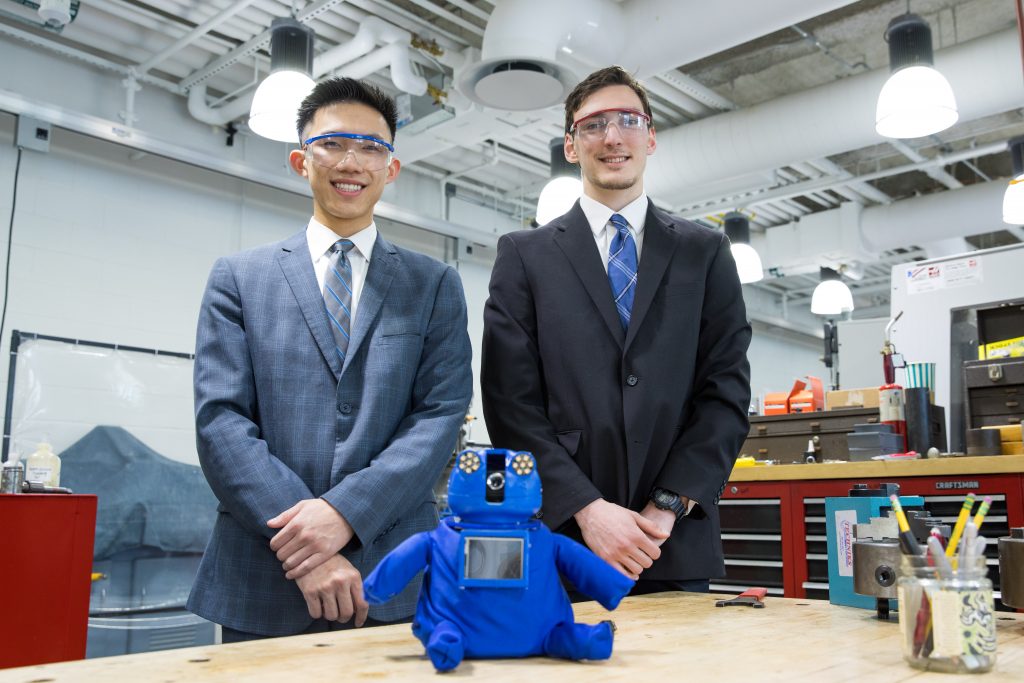 Meet MARCo, a charming little robot with LED eyes and a squishy foam body that lands somewhere between a stuffed animal and a stress ball.
MARCo, whose name is an acronym derived from Mentally Assistive Robotic Companion, is a therapeutic device for individuals suffering from mental illness, specifically depression, bipolar disorder, and general anxiety disorder.
He and his human counterparts Ryan Chiu and Jacob Boyle make up MARCo Technologies, winners of the $30,000 top prize in the 2018 Mayo Business Plan Competition. With this little robot, the team endeavors to reduce the gap between the number of people who need mental health care and the drastically lower number of licensed caregivers in the United States.
Inspired by personal connections to loved ones suffering from mental illness, Chiu, an accounting major, is the chief financial officer and Boyle, a mechanical engineering major, serves as chief technology officer. MARCo himself is the company's CEO.
"Not chief executive officer," Chiu explains. "Chief emotional officer."
MARCO's built-in features include facial recognition technology that can scan for emotion and recognize individual users. A video touchscreen on his tummy can show images and videos for guided meditation. His LED eyes are programmed to help patients who suffer from seasonal affective disorder.
He also can listen and in high-risk situations, send for help. If his companion says something like, "I've been having thoughts of ending it all," MARCo can reach out via text message to pre-programmed contacts—friends, family, doctors, and authorities—speeding up response times and potentially saving lives.
"MARCo combined technology and a solid business plan to address a compelling social need—depression and mental health. That was a powerful combination," said Bill Keep, dean of the School of Business, on the team's first-place win at the 2018 Mayo Business Plan Competition on April 4.
Two days after competition finals, they received a congratulatory call from New Jersey Governor Phil Murphy, who called MARCo "a home run of an idea."
But their $30,000 in prize money and laud from the governor weren't their only rewards.
"I promised Ryan that if we won, I'd finally fence him," says Boyle. In their three years on TCNJ's club fencing team, they are each the only person the other has yet to spar.
---
—Emily W. Dodd '03