In the mid-1990s, TCNJ journalism professor Donna Shaw was browsing through news when she came across a story that would ultimately change the course of her life. In a story about hemophiliacs suing over tainted blood products she recognized the name of the prominent Philadelphia lawyer involved with the case, whom she immediately called.
"He said, 'Are you ready to cover this story for a few years?' I laughed, but that's exactly what I ended up doing," says Shaw, a former business reporter for the Philadelphia Inquirer.
As Shaw launched her investigation of the "dirty blood," as she puts it, she uncovered a trail of corruption and heartache that has affected thousands of hemophiliacs and their families around the world. Her investigation uncovered that numerous pharmaceutical companies in the 1970s and 80s knowingly distributed tainted blood products, resulting in thousands of hemophiliacs contracting HIV and hepatitis C by using products that were promised to help them.
Soon after Shaw began looking into the topic, she met Eric Weinberg, a New Jersey lawyer who had more HIV-infected hemophilia clients than any other lawyer in the state. The two formed a partnership, sharing information and working together in an attempt to expose the wrongdoings of Big Pharma and to get justice for those affected by the blood.
She, along with Weinberg, went on to write an entire book on the subject, Blood On Their Hands: How Greedy Companies, Inept Bureaucracy, and Bad Science Killed Thousands of Hemophiliacs, published in 2017 by Rutgers University Press.
"I wanted people to understand that even when the government has the best intentions, things can go horribly wrong," she says.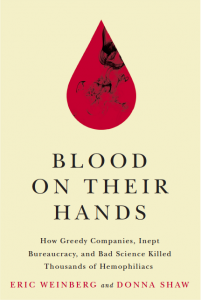 Over the years, Shaw interviewed hundreds of people, both nationally and internationally. More than half of the 17,000 hemophiliacs in America became infected, but there were thousands of others devastated by the tainted blood around the world including in Canada, Ireland, Costa Rica, England, Japan, and France. Hemophilia is generally an inherited disease that affects males, so in some cases, multiple family members were sickened. Shaw gave a voice to as many of them as she could.
Now that the book has been published, Shaw says she is relieved that people can know the whole story.
Ironically, a blood transfusion saved Shaw's life when she was a child, after a tonsillectomy gone wrong. Her mother also used to work for the National Institutes of Health Bureau of Biologics, a subsequently-renamed federal agency that used to regulate blood products.
"I grew up hanging out at NIH after school," says Shaw. "I thought those people were gods and heroes, and for the most part, I still do. But now I'm a little wiser."
Donna Shaw has received three nominations for a Pulitzer Prize, including for her work on the HIV-hemophilia tragedy.
---
—Catherine Bialkowski '18