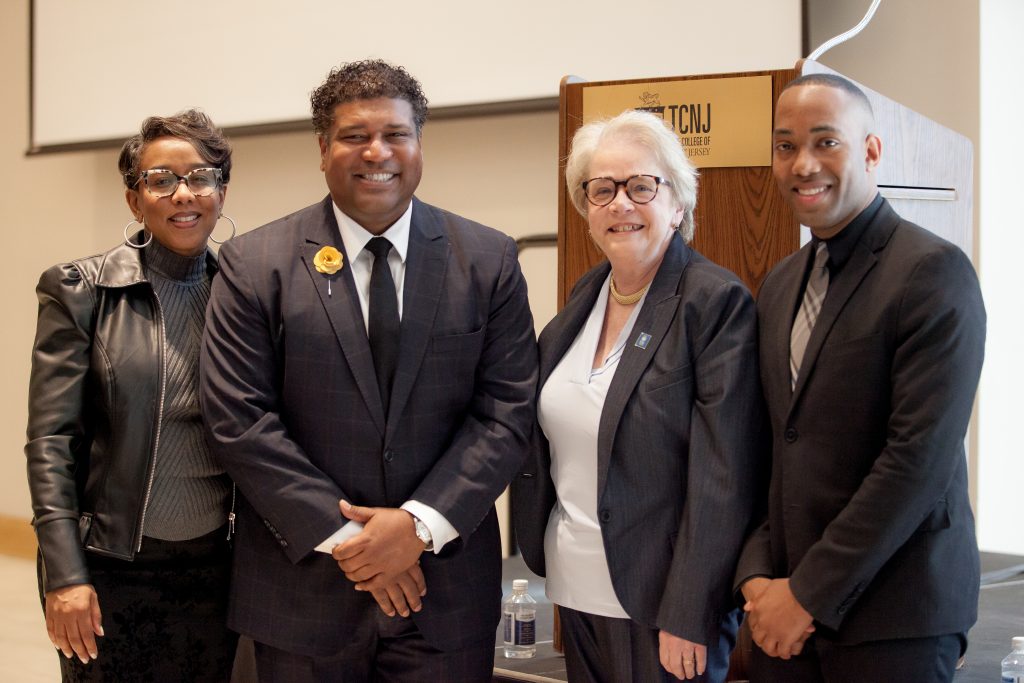 Dr. Damon A. Williams energized the campus community with his insights on #StrategicDiversityLeadership and #InclusiveExcellence at TCNJ's Inaugural Diversity Summit—Awareness to Action, on April 9.
During his keynote he asked, "Why is there so much talk of change, but so few results?" when it comes to advancing from awareness to action in the diversity and inclusion arena. His answer? There needs to be innovation.
Grounding his talk in the book The Innovator's DNA: Mastering the Five Skills of Disruptive Innovators, Williams argues that these steps—plus an additional sixth step unique to the diversity and inclusion arena—are the catalysts to action.
Always question your world. In higher education, that might mean asking, "Why can't we diversify?" or "What will it take to infuse diversity into our curriculum?"
Find solutions across boundaries—not in a box. Solutions to big issues rarely come in a convenient package. Williams argues that solutions will be found wherever they can be discovered, so look everywhere. 
Engage other innovators. Innovation rarely occurs in silos. Look for other innovators. Talk to them. Innovation occurs at these intersections of collaboration. 
"Poke the box." In computer programming, he says, developers write lines of code and then run them to see what they do; that is, they perpetually experiment with new ideas just to see what happens. "Innovators don't just talk about it, they are about it," says Williams.
Go big. After you poke the box and find what works, Williams says that innovators take proven models and concepts and make them work on a larger scale.
Lead with courage. Be willing to look beyond convention, be willing to raise your voice and step into the center of the conversation. "That is the hallmark of what it means to innovate, and move from awareness to action," Williams says.
Damon A. Williams, senior scholar and innovation fellow at the University of Wisconsin's Equity & Inclusion Laboratory in Madison, is among America's top experts in strategic diversity leadership, educational achievement, and organizational change. He previously served as senior vice president and chief education officer at the Boys & Girls Clubs of America, and as chief officer for diversity, equity, and educational achievement at the University of Wisconsin­–Madison.
The TCNJ Diversity Summit was organized and sponsored by TCNJ Student Affairs and the Office of Institutional Diversity.
---
—Emily W. Dodd '03