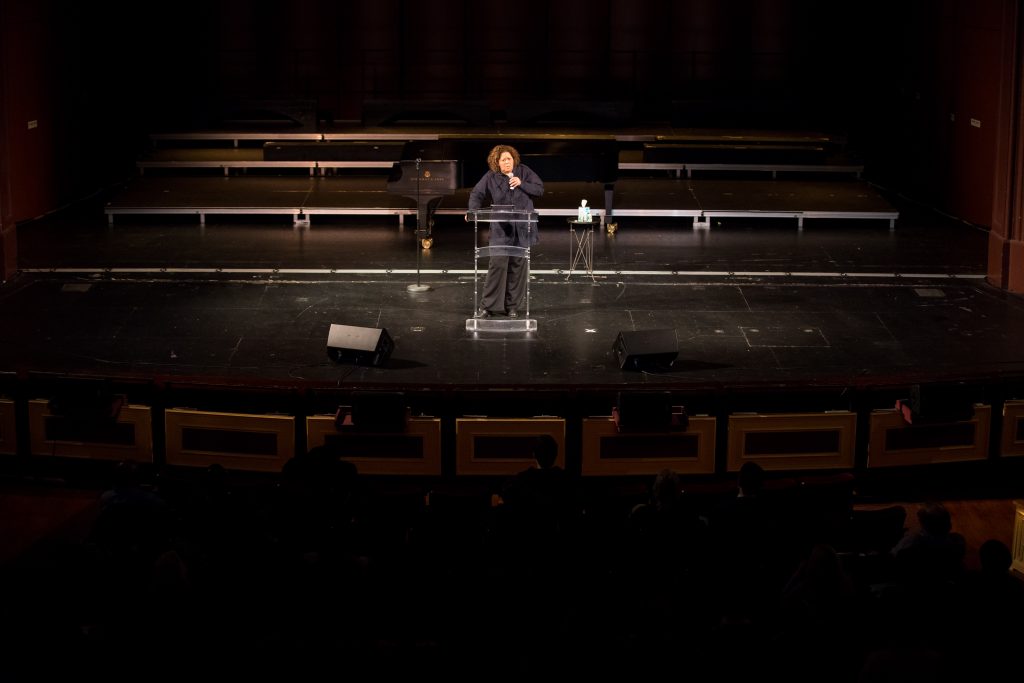 TCNJ Center for the Arts presented famed playwright, actress, and educator Anna Deveare Smith at Kendall Hall's performance theater on Wednesday, April 25.
Smith is best-known for her roles as Dr. Nancy McNally in NBC's The West Wing and Gloria Akalitus in Nurse Jackie, a Showtime series. She is also an advocate for social justice and a professor at Tisch School of the Arts at New York University.
Smith, who has written and performed more than 15 one-woman shows, treated a full house to a sampling of her artistic monologues, which she based on personal conversations and interviews with 250 people from four different geographic areas of the United States. Each of the mini-performances contained undercurrents of race, ethnicity, and class, and encouraged the audience to reflect on certain societal issues.
Smith presented each monologue in character, representing someone she had spoken to and who had touched her in some way, putting on a different tone of voice for each character and truly owning the persona. Among the people Smith brought to life on stage were Kevin Moore, friend of Freddie Gray, a 25-year-old African American man who died of injuries inflicted on him while in police custody after an arrest in Baltimore, Maryland; Allen Bullock, the 18-year-old credited with starting the riots in Baltimore after Gray's death; and Tony Eady, a teacher in North Charleston, South Carolina, who spoke on the significance and devastation of the Charleston church shooting at an African Methodist Episcopal church in 2015.
Smith shared with the audience a unique perspective on what can be done to begin to solve many of the issues so prevalent in society today. She stressed the importance of those whom she calls "the walkers," individuals who choose to walk with people who have failed, and people who are experiencing darkness. She called each of the characters she performed a walker, and encouraged audience members to be walkers, too.
---
—Catherine Bialkowski '18