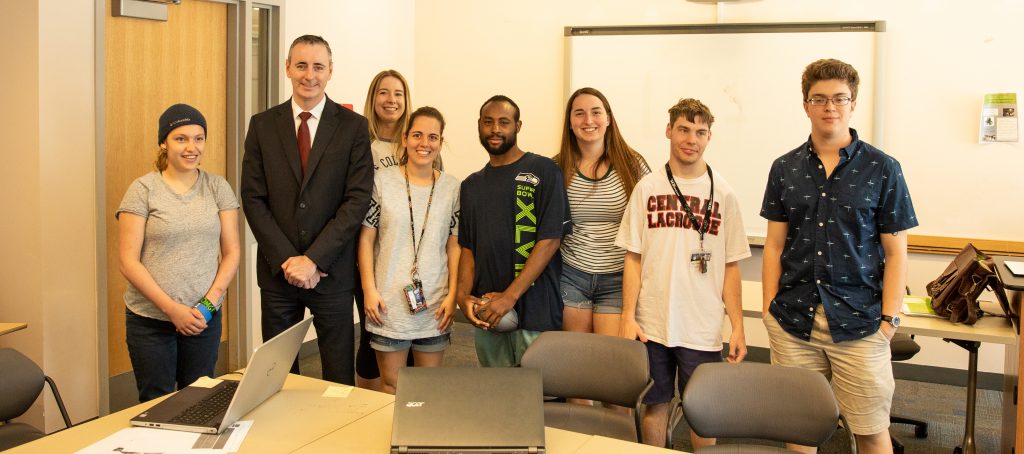 TCNJ Career & Community Studies program students, staff, and faculty welcomed Congressman Brian Fitzpatrick (PA-08) to class on Wednesday, May 2. He was on campus to learn about how the college is helping young adults (ages 18-25) with intellectual disabilities prepare for adult life through this program, which was among the first of its kind in the country.
"Young adults with intellectual learning disabilities and their families want programs designed to empower those with disabilities to be able to learn and succeed on their own," said Congressman Fitzpatrick. "The College of New Jersey and their Career and Community Studies Program prepares students with intellectual disabilities, some of whom are my constituents, with the academic and career readiness needed for adult life."
"We were so pleased to have Congressman Fitzpatrick visit the Career and Community Studies Program at TCNJ," said CCS Assistant Director Amy Schuler. "It is exciting to see that our elected officials continue to see the value of post-secondary educational opportunities for young adults with intellectual disabilities."
Congressman Fitzpatrick observed a Great Conversation course, which focuses on an important issue or issues within a specific academic discipline.
TCNJ's CCS program is designed to prepare students for adult life through academic rigor, career discovery/readiness, and peer socialization as part of a diverse community of learners.
Learn more about TCNJ's CCS program.
---
—Luke Sacks