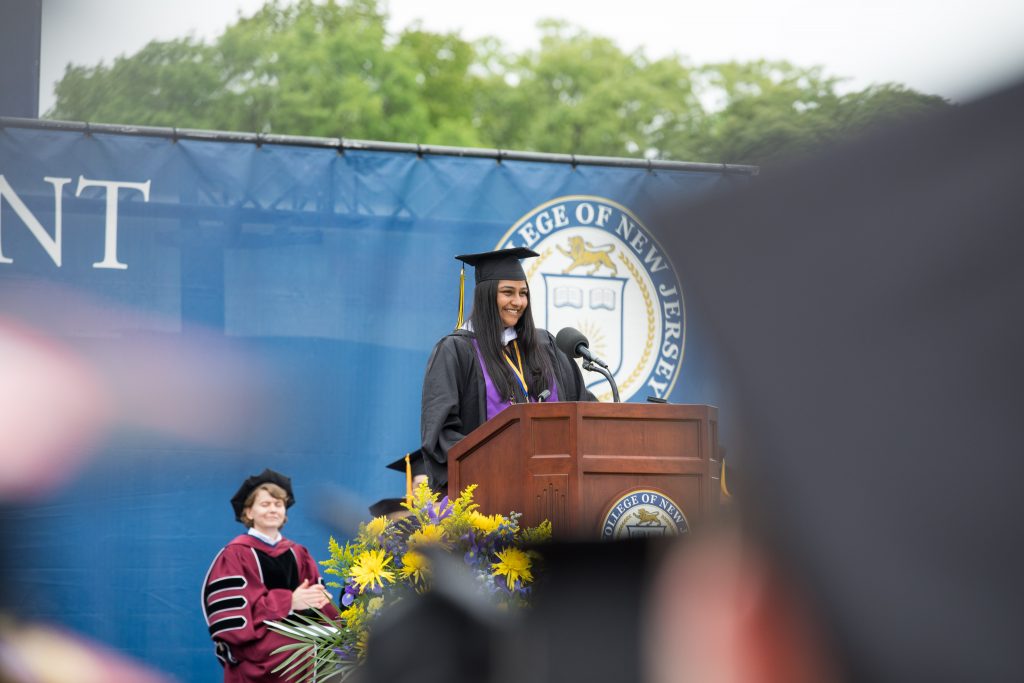 In her 20th and final commencement address, TCNJ President R. Barbara Gitenstein took the stage in Lions Stadium and praised the class of 2018 for their accomplishments in the classroom but also encouraged them to be ardent in affecting change during a difficult time.
"As future leaders, I challenge you to be stewards of civility in the face of disagreement," Gitenstein said to the 2,128 graduates. "Advocacy is not merely to have your say; it is to accomplish change—that requires speaking and listening, commitment and flexibility, pride and humility. I hope that we can count on you to continue to be passionate, tireless and dedicated to causes larger than yourselves, causes that can change our nation and the world for the better."
Dr. Anthony Conte, associate professor of elementary and early childhood education, was selected by the class of 2018 to be the guest speaker. He asked the graduates to close their eyes and remember some of the challenges they overcame during their time on campus.
"There is no trophy for getting through the hard times, no label for a morning you did not want to get out of bed, but you did," Conte said. "Open your eyes, and take a look at where you are. Touch the cap on your head, the gown wrapped around you. Being here means you have succeeded."
Senior class President Lindsay Thomas reflected on how fast the time has gone by and how small moments can turn into important memories.
"Somewhere between spending hours in the dining hall with your freshman floor friends and rushing to class because you lost track of time in alumni grove, the past four years have flown by," Thomas said. "Looking back on these small moments and memories, we can't help but smile. These are the moments we will take with us for the rest of our lives."
With her final words to the class of 2018, Gitenstein, who will retire on June 30, challenged the graduates to make a difference.
"Work to change the world—we need you," Gitenstein said. "Go confidently into your future and remember us, TCNJ, as your foundation for a promising future."
---
—Luke Sacksˆ