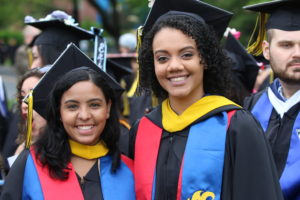 This year marked the 50th anniversary of New Jersey's Educational Opportunity Fund (EOF) and TCNJ's 2018 class celebrated the occasion by posting the highest four-year graduation rate in the program's history at the college. Approximately 76 percent of the 2014 EOF cohort graduated this year, besting the previous high of 65 percent reached in 2016.
"These students have tremendous ability and potential," said Ivonne Cruz, TCNJ's director of EOF and Student Success. "We provide access and support services to help them fully realize what they can achieve at the college level."
Those services include a mandatory five-week Summer Scholars residential program that helps students prepare for the transition to college life and the academic rigor of TCNJ. Additional support and mentorship options help ensure success once EOF students arrive on campus.
"From day one on campus we are working with our students to help prepare them for the college experience as a whole," Cruz said. "That includes the classroom, but also other activities and programs beyond academics."
"Without EOF, I would not have accomplished all of the personal and academic goals that I have accomplished here at TCNJ," said EOF Class of 2018 graduate Yvette Peralta. "EOF gave me a voice and a purpose on this campus."
The EOF program at TCNJ also works to ensure students stay on track for graduation.
"Each EOF student is assigned to one of three assistant directors on our staff," Cruz said. "Those mentors help students navigate their college experience academically, financially, and socially."
New Jersey's Educational Opportunity Fund provides financial assistance and support to students from educationally and economically disadvantaged backgrounds so they may attend in-state institutions of higher education. TCNJ provides an additional level of financial support through the Promise Scholarship, which provides funding for the full cost of attendance for the fall and spring semesters of the first two-years at the college.
For more information on TCNJ's EOF program please visit: