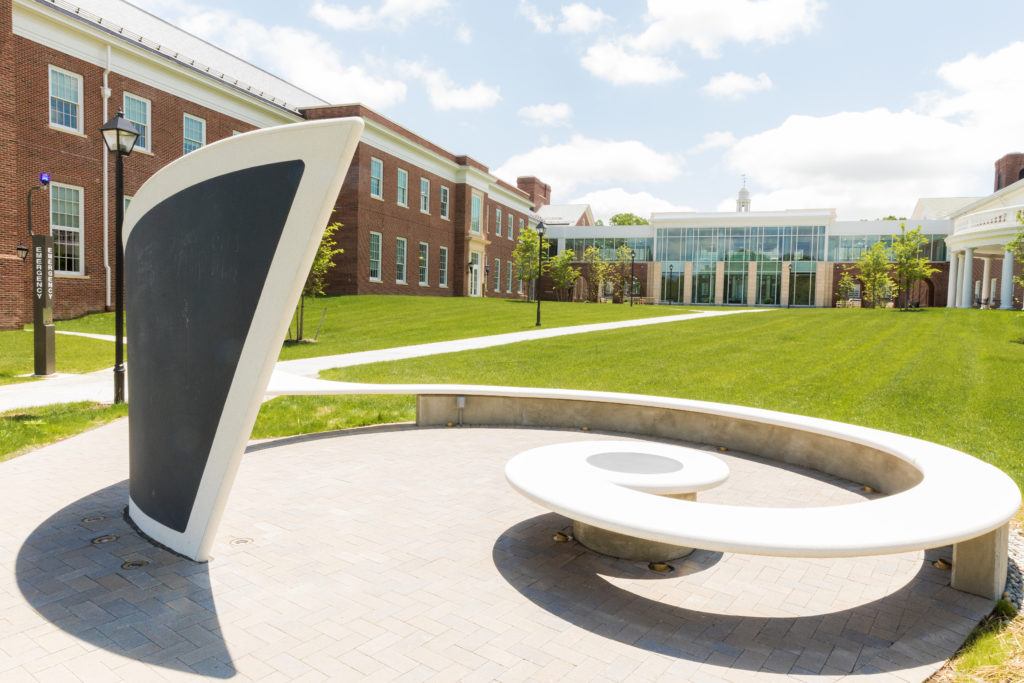 Long explored and made popular by Leonardo Fibonacci and Johannes Kepler in the middle ages, the Golden Ratio describes—as simply put as possible—the perfectly symmetrical relationship between two proportions.
It is often found in nature, in places like flower petals, honeycombs, seashells, hurricanes, and spiral galaxies. When used in art and design, it creates aesthetically pleasing architecture and décor.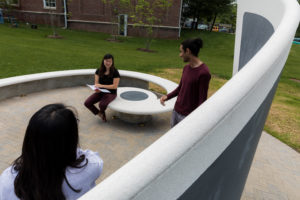 The 28-foot sculpture, which sits in the courtyard between the new STEM Forum and the lake, is a visual representation of the spiral created when the ratio is drawn in logarithmic form. Designed with benches and a chalkboard, it serves not only as a community gathering space, but also as an outdoor classroom, which TCNJ MUSE students put to work immediately in early June.
"Our hope is that the Golden Spiral will be used not only for classes, but for poetry readings, concerts, group meetings, and as a contemplative space for thinking, reading, and writing," says Jeff Osborn, dean of TCNJ's School of Science.
The fiber-reinforced polymer and stainless steel sculpture was designed by California artists Wowhaus and fabricated by Kreysler and Associates. It is the public art installation associated with Phase 1 of the STEM Complex project.
---
—Emily W. Dodd '03