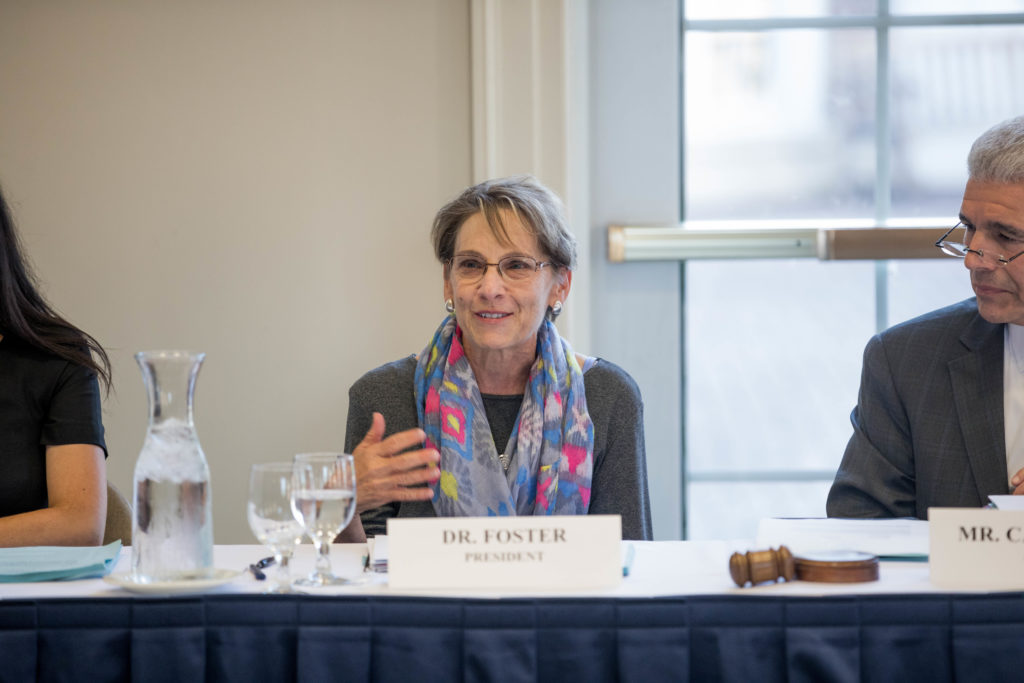 At Tuesday's TCNJ Board of Trustees meeting, President Kathryn A. Foster made her first public remarks since assuming office on July 1. She used the occasion to describe four conversations that she plans to have with the college's many constituencies in the coming weeks and months. The discussions, she said, will help us frame our future.
"Hearing perspectives on these topics and formulating my thoughts will enable me to set relevant and worthy personal and institutional goals," said Foster.
The four conversations were posed in the form of questions:
How might TCNJ leverage and take advantage of this leadership change?
"Institutions inevitably get into habits," she said.  "The moment of leadership change, which for TCNJ has not happened in nearly two decades, allows the community to take stock of its processes and practices.  To what degree are our habits inertial, which are important to continue and deepen, and which may be ripe for reconsideration?"
What is the next level for TCNJ?  What does it entail, generally and specifically, for the college?
"Throughout the search process and in early conversations, I've been encouraged to 'take TCNJ to the next level,'" said Foster. "It is important to have clarity, buy-in and understanding about direction and destination lest we find ourselves in the situation of not knowing we've arrived because we didn't know where we were headed."
How do we avoid the tyranny of complacency?
"TCNJ is better positioned than many institutions of public higher education, but we are not immune to formidable pressures and challenges—demographic, economic, social, political, student and donor behavior—that will affect us," Foster continued. "I want to use the months to come to engage the board and campus community to understand the environment within which TCNJ operates, understand alternative courses of action, and move accordingly to ensure we continue to thrive in the years to come."
What's the strategy within the strategy in TCNJ's five-year plan, "Bolder, Better, Brighter"?
"The plan, now entering its third year, offers five priorities for the institution," she said. "While each is important in its own right, I want to work with the board and others to clarify what this adds up to. Are we asking the questions, having the discussions, and taking the actions now that will matter most for the future?"
Foster concluded her remarks by expressing gratitude to the board and the community members in attendance for the opportunity to lead the college.
"As I said to the students in my opening message, there is no place I would rather be than here, and no one with whom I would rather work than you to contemplate such animating questions," Foster said.  "I am exceptionally fortunate to be on this journey with you."
---