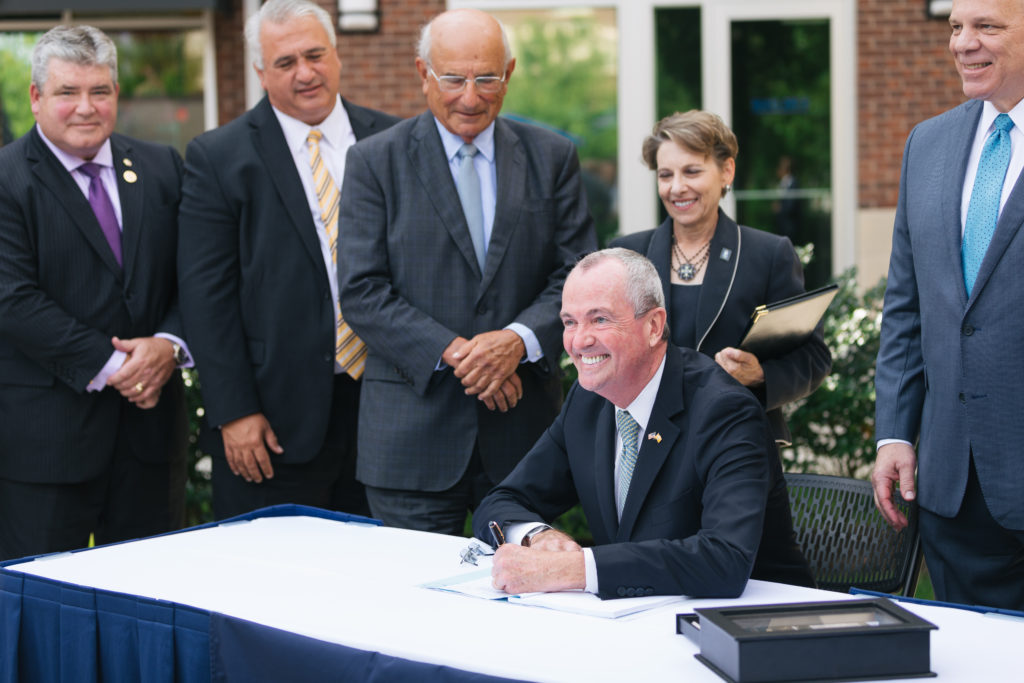 Governor Phil Murphy traveled to Campus Town at The College of New Jersey today to sign bipartisan legislation to further foster economic growth in New Jersey through public-private partnership (P3) agreements between government entities and the private sector for building and highway infrastructure projects in the state.
"Today, I'm proud to enact bipartisan legislation that gives our communities greater opportunities to benefit from commonsense public-private partnerships for essential construction and capital projects," said Governor Murphy. "Democrats and Republicans alike recognize the tremendous benefits that can arise when public officials and private sector partners work together. By doing so, we give state, county, and local officials the much-needed flexibility they need to improve their communities while creating good-paying new jobs – in most cases good, union jobs – while leveraging private capital to invest in public infrastructure."
Under S-865, government bodies, including school districts, municipalities, counties and state entities, may enter into a public-private partnership agreement with a private organization, which would assume the financial and administrative responsibility for the development, construction, reconstruction, repair, alteration, improvement, extension, operation, and maintenance of a government-related project that is financed in whole by the private sector organization.  However, the law requires local public input and finance controls, as well as land use and financial approvals, should a municipality, county, or school district seek to pursue a P3.
"Campus Town is an enormously successful public-private partnership between The College of New Jersey and The PRC Group," said TCNJ President Kathryn A. Foster of the development, which was constructed under a previous public-private partnership law. "This $120 million, 350,000 square foot development provides attractive housing, retail outlets and amenities that we did not have and would not have had without a P3 agreement."
Foster noted the economic impact of the development is significant. Over 20 years, the project is expected to generate $37 million in tax revenue, and $196 million in projected payroll and salaries, she said.
"Those are impressive numbers, but perhaps the most impressive number of all, at least from this public partner's point of view, is zero," she added. "No tuition or public dollars went into Campus Town. It was fully financed by our private partner, PRC Group."
New Jersey Senate President Stephen M. Sweeney, a sponsor of the bill, predicted that the new P3 law will help to grow the state's economy.
"Public-private partnerships are the most important thing we could be doing in this state," said Senate President Steve Sweeney, a sponsor of the legislation. "As the governor calls for a stronger, fairer economy, this is one of the pieces that will actually build that—with private sector ingenuity and technology."
---
—Dave Muha