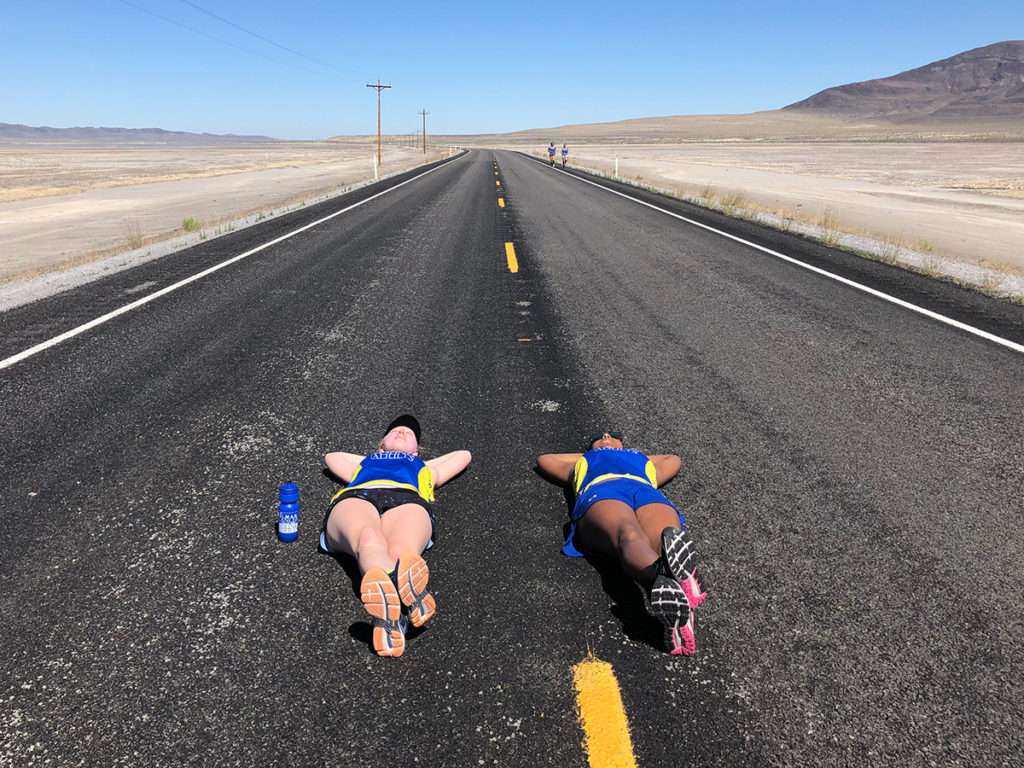 On June 17, Alana Okun '19 and Vaishali Ravikumar '18 dipped their toes in the Pacific Ocean and then ran across the Golden Gate Bridge in San Francisco. They ran for the next 49 days – along the loneliest highway Route 50 in Nevada [see photo above], past geysers in Yellowstone National Park, into the Windy City – until they finished the cross-country journey at the Boston Commons.
The duo, who knew each other at TCNJ but applied for the run without knowledge of the other doing so, ran as part of a 24-member team of mostly college students to raise money for the Ulman Cancer Fund's 4K for Cancer, whose mission is to support young adults diagnosed with cancer.
"I really love running," says Ravikumar, who is in the 7-year medical program. "This was a cool way to help people in the process."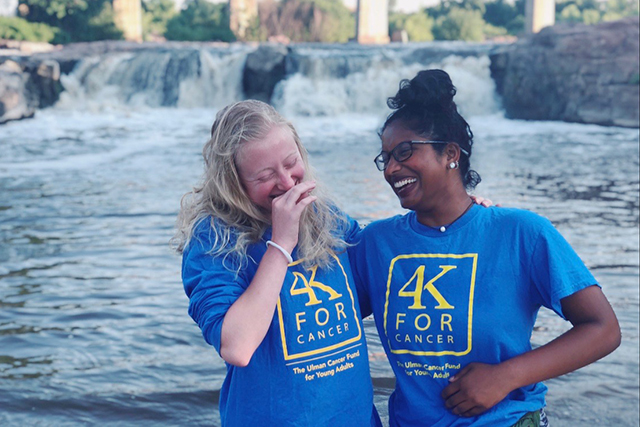 The team ran in relay, with each member logging about 10-16 miles a day, taking breaks in a van that followed the crew. They slept on floors most nights and woke at 4 am to beat the heat. They ran past wild dogs and swarms of bugs. ("I had a tiny tube of bug spray, which became a hot commodity," says Ravikumar who admitted to secretly spraying herself before rationing it out.)
Okun, a self-designed classics major who also aspires to be a doctor, suffered a bunch of injuries early on. "I had trouble keeping up with the pack," she says. "Thankfully, this was not about running as fast as you can, but running to make a difference for others." The team volunteered at hospitals along the way and gave two $2,500 scholarships to peers who had cancer.
"It was pretty amazing," says Ravikumar of the Boston finish despite the flash flood warnings in the area. "I couldn't wait to sleep with a pillow though." There wasn't much rest for the weary – two days later, she jetted to Africa with her family to hike Mount Kilimanjaro.
Okun's first stop was to get an MRI of her shin, and she's been prescribed physical therapy. She's now considering the Peace Corps to see more of the world before med school. "I changed a ton from the start to finish," says Okun. "It's hard to go through a journey like this and not come out a different person."
Journey by the numbers:
4070 miles
Total group mileage
20 miles
Longest run in one day
3
Nights with a bed
2
Vans stuck in the mud
$126,600
Total amount raised
105
Hottest temp
---
—Kara Pothier