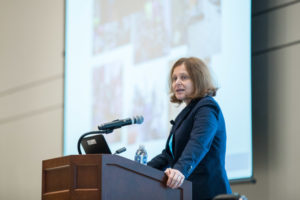 Dr. Sigal R. Ben-Porath joined the TCNJ community on Monday, September 17 to commemorate Constitution Day — the date in 1787 that the U.S. Constitution was signed.
Ben-Porath is a political philosopher and professor in the Literacy, Culture, and International Education Division at the University of Pennsylvania's Graduate School of Education. Her book, Free Speech on Campus, uses real-world examples to explore the contexts in which conflicts erupt, and offers a framework for thinking about free-speech controversies both inside and outside the college classroom.
Ben-Porath presented two sessions focusing on the theme of "Inclusive Freedom: The Quest for a Democratic Culture."
During the first session, "Speech, Accountability, and the Constitution," Ben-Porath discussed freedom of speech, including what it is and how our understanding of protected speech has developed and changed along with case law on the First Amendment.
In the second session, "Campus Free Speech: What Does this Mean for TCNJ?" she illustrated what members of the campus community can do when faced with controversial or hate-speech on campus, and how the college can balance protecting the community from harmful speech while ensuring that multiple perspectives aren't silenced.
To wrap-up Ben-Porath's insights, Don Trahan Jr., director of TCNJ's Office of Diversity and Inclusion, led a campuswide town hall discussion about free speech on college campuses.
The event was co-sponsored by the Division of Student Affairs; the School of Humanities and Social Sciences; the Departments of English, Political Science, and Women's, Gender, and Sexuality Studies; and the Employment Equity Office.
---