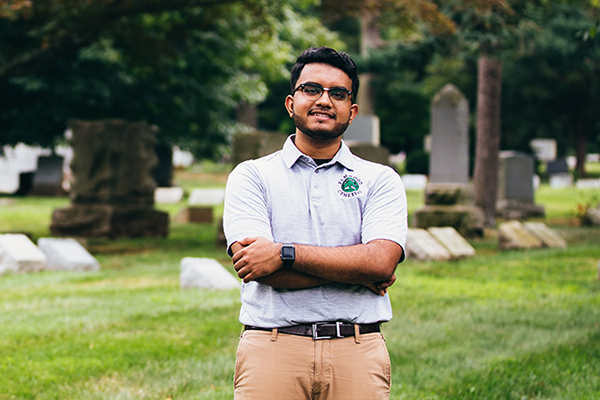 As part of an assignment for his First Year Seminar focused on the history of disease, Akash Patel '21 photographed headstones at an historic cemetery in New Brunswick for a campus display on the 100th anniversary of the 1918 flu pandemic.
There he met Eleanor Malloy, president of the Elmwood Cemetery Association, and the rest is history. Patel was offered a paid internship at the cemetery and spent the summer researching the pandemic's effect on New Brunswick specifically, and New Jersey generally.
It started with Patel delving into the cause of death for those buried at the cemetery at the peak of the pandemic. Records were spotty and his research took him to the state health department archives in Trenton, local hospitals, and elsewhere as he ferreted out primary sources to tell the story. Malloy said a lot of the information compiled by Patel would have been lost to history if not for his efforts.
"Just looking at one cemetery, in one city, you can see the effects," says Patel, who detailed how quarantines were imposed, public events canceled, plants closed. "It really impacted everyone's day-to-day lives."
One lasting effect is the change to public health policy that resulted. The pandemic showed that coordinated public responses and prevention campaigns were needed, and the field of epidemiology was ascendant with the realization that diseases needed to be better tracked and investigated.
The so-called Spanish flu (which likely did not originate in Spain) hit the young and healthy and depressed the lifespan in the United States by 10 years. The pandemic is estimated to have killed more than 50 million worldwide.
It is believed to have entered New Jersey via servicemen returning from World War I in Europe. It spread quickly through Camp Dix — now McGuire Air Force base. As many as 10,000 were felled statewide. In New Brunswick there were 6,700 cases and in October 1918 alone — the month the pandemic peaked in the state — the city had 110 confirmed deaths, 36 of those victims were buried at Elmwood.
Patel, a biology major who plans to go to medical school, gave a presentation on his research at the cemetery and will participate in events planned at TCNJ through October 10 to mark the anniversary. Lectures, panel discussions, a flu-themed escape room pop-up tent, and flu shots for students are scheduled. An instructional display is featured at the Gitenstein Library.
---
—Patricia Alex