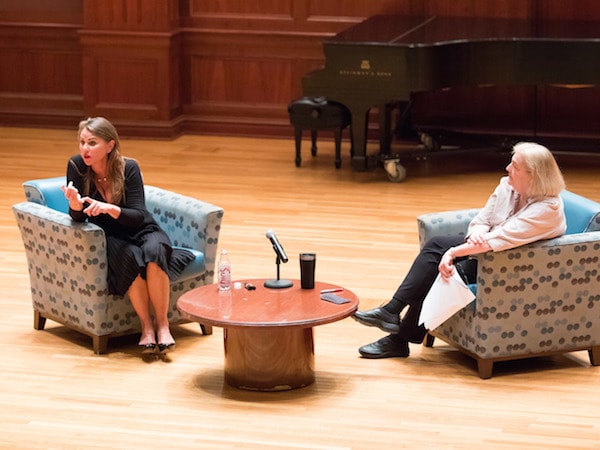 As an award-winning journalist and correspondent for 60 Minutes, Lara Logan has reported from some of the world's most hostile places. She's been on the frontline with Navy Seals in Afghanistan, in Baghdad during a U.S. military invasion, and in a row boat off the shores of Alaska to witness a whale hunt. And on September 26, she was in the trenches with the TCNJ community, headlining two events held at Mayo Concert Hall: A question and answer session with arts and communication dean Maurice Hall, and a more intimate "Master Class" with TCNJ journalism students, moderated by professor Donna Shaw. In both, Logan chronicled her experience as an old-school investigator with a desire to "see a situation for myself and make it so others could understand."
Her advice to journalism students holds true for any major. Here are the class notes:
Hard work and quality of what you do matters.
Addressing a question about how to make it as a female in an industry with several top male executives recently accused of sexual harassment, Logan answered practically. "Focus on your work. Be the best you can be and worry less about the problems that you might encounter," she says.
Be as critical of the people you like and find credible as you are of the people you find offensive.
There's a courage in finding facts, says Logan. She strives to follow the facts, even when they take her in a direction different from society's accepted norms. "We have great narratives in our media," she says. For example, those in the military are heroes, or actions by environmental groups save the earth. But she asked students to look for ideas that challenge the narrative and explore that side, too.
Principles are not free.
She would rather lose the story than compromise her personal integrity. "Ask yourself, what am I willing to do in order to stand up for the principles I say I believe in?"
---
—Kara Pothier