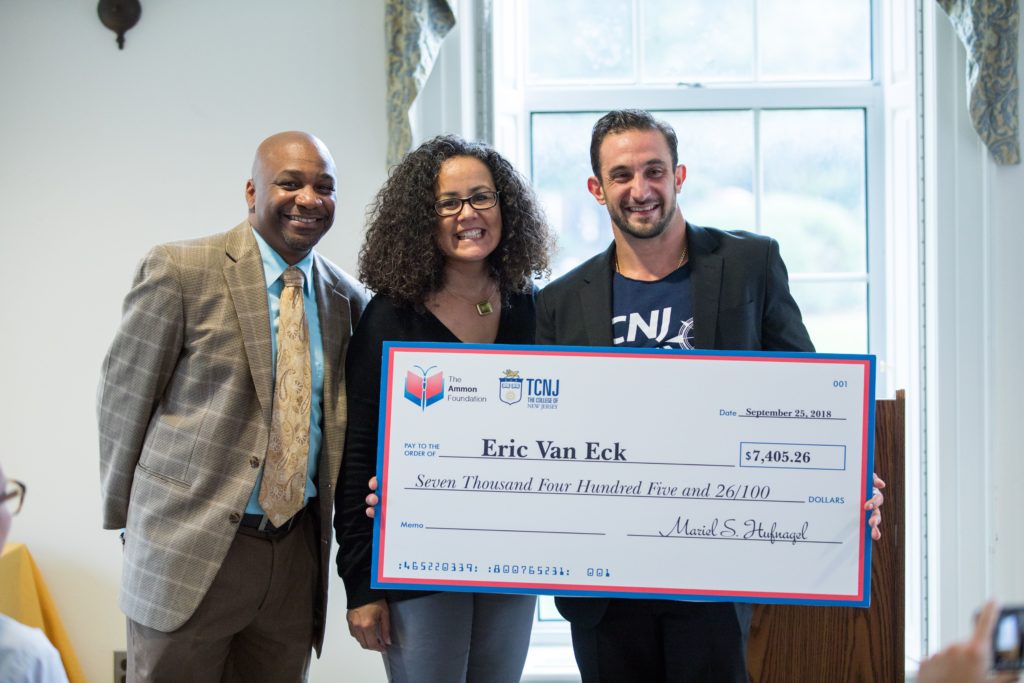 Eric Van Eck '18 met a lot of professors since he first enrolled at TCNJ in 2006.
"Mostly for bad reasons," he said, "like being in the principal's office.
But Van Eck had a very good reason to be in Trenton Hall 123 in late September: he was receiving a $7,400 scholarship from TCNJ Lion's House and The Ammon Foundation.
"I've always wanted a giant check," he said. "Cross that one off the bucket list."
Van Eck spoke about his struggles with a substance use disorder and academic dismissal in 2012 at a ceremonial scholarship presentation that included faculty, staff, administrators, representatives from The Ammon Foundation, and TCNJ President Kathryn Foster.
He returned to TCNJ in 2017 and became involved with TCNJ's Collegiate Recovery Community. He picked up a public health major and a civil engineering minor, and plans to graduate in December. Now, he wants to give back to those in need.
"I'd like to work in disaster relief," he said. "I've come to realize that just like when people showed up for me when I was hopeless, I, too, want to go into areas where people think that all is lost and be able to say, 'No. I'm here for you. There are people here for you.'"
Ammon Labs and The Ammon Foundation founder Stephen Haupt said that Van Eck is the perfect example of a recovery success story.
"We started the foundation to help people who want to continue their recovery after they've gone through their treatment program," said Haupt. "This is the perfect example of a success story. This is why we started the foundation. And we hope to really grow it."
So far this year, The Ammon Foundation has given out $60,000 of scholarships, according to Haupt.
---
—Connor Smith '18