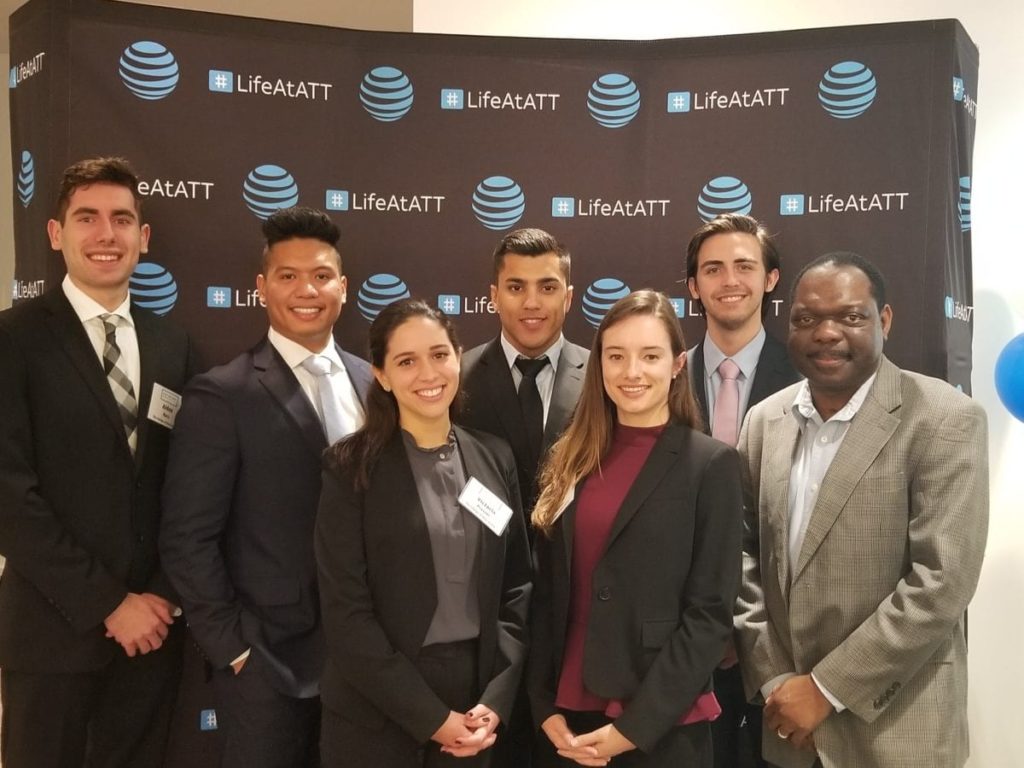 A team of six TCNJ business students took home the proverbial gold at AT&Ts first-ever National Sales Competition at AT&T Corporate Headquarters in Dallas, Texas, Oct. 18–20, 2018.
The TCNJ team beat out 30 schools from across the country for a prize pot that included scholarship money, job and internship opportunities, and a $10,000 sponsorship to the college's School of Business.
The competition was divided into two rounds, starting in late September with teams analyzing a case study of a company that could find value in a variety of AT&T Business Solutions. Round one — a video conference with the prospective buyer — whittled 30 teams down to 12 for round two, which was an all-expenses paid trip to AT&T Global Headquarters in Dallas where the teams gave their pitch at a face-to-face meeting.
Participating students included Emily Bowen '19, Justin Figueroa '22, Austhon Manalac '21, Matthew Nisi '21, Victoria Presser '20, and Alden Racz '20. All are members of Pi Sigma Epsilon, a national, co-ed, professional fraternal organization in sales, marketing, and management.
"The competition itself was an amazing experience. AT&T has proved that they place immense value in attracting and developing talent," said Bowen, PSE president. "Winning was a bonus. This competition was the first of its kind and I'm excited that we were able to represent TCNJ and showcase our abilities!"
Aniefre Eddie Inyang, assistant professor of marketing and advisor to PSE says that the winning team exemplifies the many ambitious and determined students at TCNJ.
"Our students were unfazed by the competition," he said. "They were determined to win, they practiced hard, and in the end came out on top. It brought a smile to my face when we won to the surprise of the other schools who had not heard of TCNJ, but now know we are force to be reckoned with."
---
—Nicole Beagin, with additional reporting by Emily Dodd '03