First introduced to campus during Homecoming 2017, the William M. McLagan '87 Lion was welcomed officially to its permanent home — a prominent pad between Brower Student Center and the AIMM Building — during Homecoming 2018 on Saturday, Oct. 27.
The sculpture, a three-foot-tall masterpiece-in-bronze, is a gift from McLagan, a retired career Army officer who achieved the rank of colonel. He was also the first in his family to graduate from college.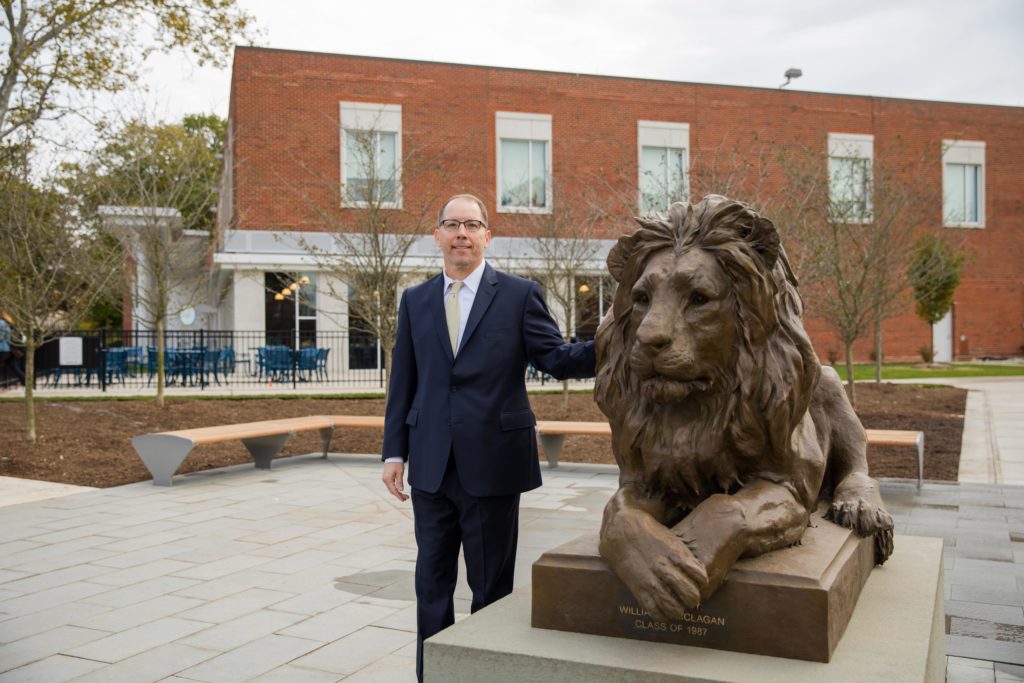 "TCNJ holds a special place in my heart because of my experience there — the people and the memories," he said, adding that this ornament was something he dreamed about during his time on campus in the mid-1980s.
"It gives me great joy to think about this lion gracing the college campus for the enjoyment of students to come," said McLagan at the original unveiling in 2017. "It is my hope that this lion statue will continue to promote school spirit in the student body and encourage alumni to become more engaged with the college."
The lion has been the college's mascot since 1934.
Award-winning artist Herb Mignery, a bronze sculptor with more than 40 years experience, designed and fabricated the piece at Art Castings of Colorado, a full-service, world-class bronze foundry in Loveland, Colorado.
---
—Emily W. Dodd '03