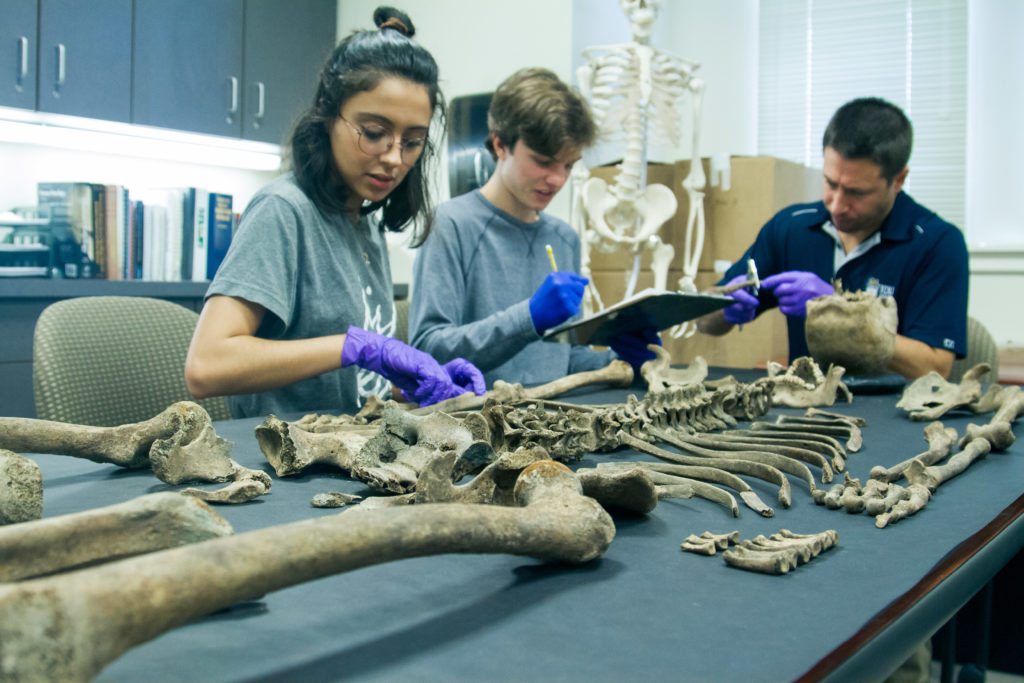 For Genevieve Duran, it seems the path to her future lay in the past. She is one of about 20 students who have been part of a major archeological research project at TCNJ.
Duran, a junior, has spent time over the last two years helping to salvage, clean, and examine bones from an 18thCentury Philadelphia cemetery. She came to TCNJ with plans to study social work, but now will pursue biological archeology in graduate school.
"These opportunities aren't found for undergraduates in other institutions," Duran said of the research.
Indeed, such projects generally are the province of big research universities, but TCNJ is playing a pivotal role in preserving and studying skeletal remains and graveyard artifacts unearthed during construction at 2nd and Arch streets in 2016. The site was used for burials by the First Baptist Church from roughly 1700–1860.
The remains of nearly 500 souls and the remnants of their graves now reside in offices in Forcina Hall and the archeology lab in the Social Sciences Building as researchers pore over the material.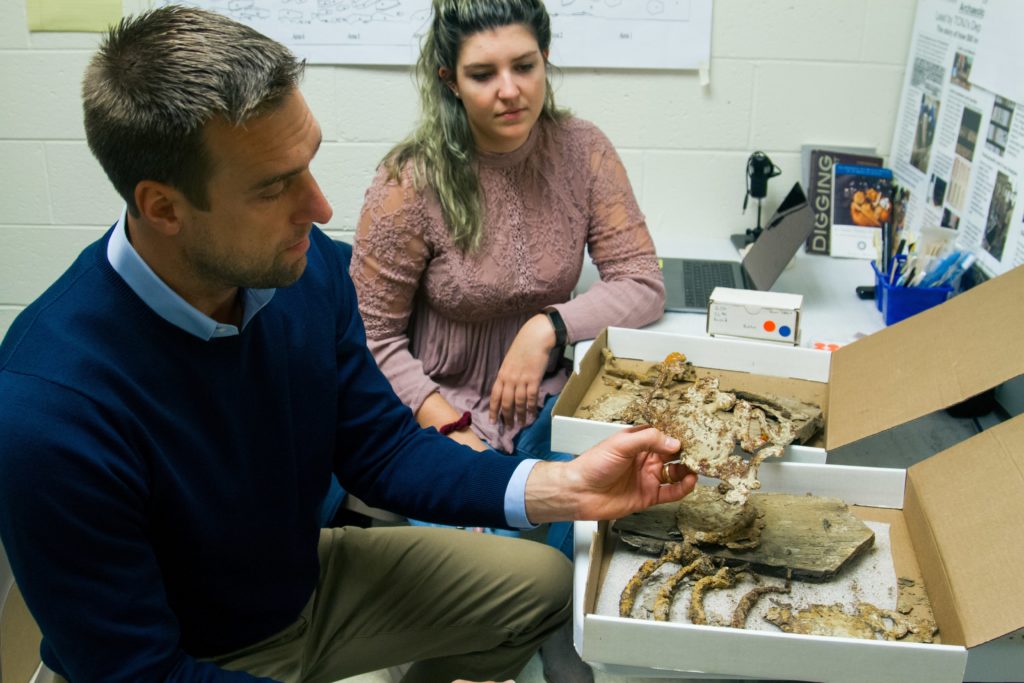 Professor George Leader spearheaded TCNJ's involvement and supervises the study of artifacts, including remnants of coffins and personal effects. His colleague in the sociology and anthropology department, Professor Jared Beatrice, handles the examination of skeletal remains.
"It seems strange to study skeletons," said Beatrice. "It's not to see how they died but rather how they lived."
After painstaking cleaning and cataloguing, students learn to "read" the artifacts and remains. "We're learning a huge amount of information about these early Americans," said Leader.  "We now have the opportunity to tell these people's stories. To tell the story of a really fascinating part of American history."
Amanda Peghar, a double major in anthropology and biology, is using tooth analysis – examining linear enamel hypoplasia, to be exact – to ferret out health stressors as a research project that will be the subject of her senior thesis.
"It's interesting to look at the health of a deceased population and what they have to tell you," said Peghar, who is applying to MD/PhD programs.
Ciara Byrne '21 is becoming an expert in coffin handles used in early America – a seemingly narrow pursuit that has, in fact, opened up a wider view on the past. "You can learn a lot from this, it leads you into so much history," she said.
More students will be involved in the research through 2023, when the remains will be reburied at Philadelphia's Mount Moriah Cemetery. "They represent people, so we have a responsibility to study them and treat them with respect," Beatrice said.  "It's an awesome responsibility."
---
—Patricia Alex