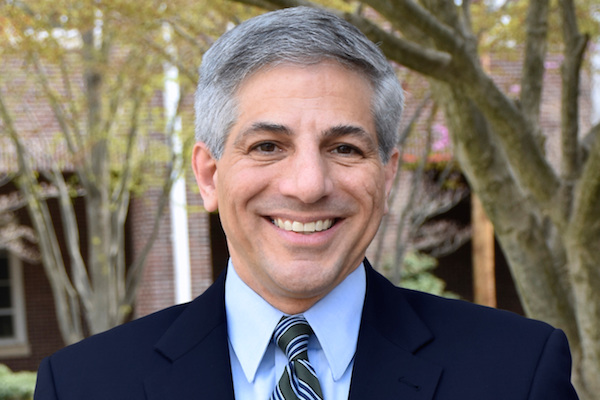 The American Association for the Advancement of Science announced today that Jeffrey Osborn, dean of TCNJ's School of Science, has been named an AAAS Fellow. This is one of the highest honors in his field.
Osborn received the award for his distinguished contributions to undergraduate science education, particularly through undergraduate research experiences in biology, and faculty development with respect to undergraduate research.
"I am honored and humbled to be elected as a Fellow of AAAS," Osborn said. "I feel privileged to have spent my career focused on scientific discovery — asking questions, interrogating data, and contributing new knowledge — about the world for which the answers were unknown."
Osborn's research program encompasses biological, interdisciplinary, and higher education areas.  His primary scientific focus addresses questions about plant evolutionary biology, studying both fossil and living plants, and considering evolutionary questions about pollen development, character evolution, and pollination biology in seed plants.
His research program also encompasses several areas of higher education, including the teacher-scholar role of faculty, faculty workload models, and the integration of undergraduate research and other high-impact educational practices into the curriculum.
"Collaborating directly on authentic research with so many undergraduate students as junior colleagues and helping them realize their potential as life-long learners, no matter what their career paths, has been especially rewarding," Osborn said.
Osborn has led a number of institutional and multi-institutional programs to support the institutionalization of undergraduate research, scholarship, and creative activity, as well as the advancement of students and faculty who have been traditionally underserved by higher education. Through these efforts, Osborn has worked with over 400 colleges and universities across the country.
"It has been a pleasure to help institutions make the cultural and organizational changes needed to strategically focus on student, faculty, and institutional success and to move toward teacher-scholar and student-scholar models at the departmental, institutional, and state system levels."
Osborn has headed TCNJ's School of Science since 2006. Prior to that, he served as chair and professor of biology, as well as director of the Science, Technology, Engineering, and Mathematics Talent Expansion Program at Truman State University in Missouri.
His work has been funded by a variety of external sources, including the National Science Foundation, Howard Hughes Medical Institute, J. William Fulbright Foundation, Natural Sciences and Engineering Research Council of Canada, among others. In addition to his own grants, Osborn's leadership has helped his institutions in garnering over $22 million in competitive grant support for mission-central efforts.
Osborn also has been recognized by the Council on Undergraduate Research Fellows Award, the Centennial Award from the Botanical Society of America, the Antarctica Service Medal of the United States of America from the National Science Foundation, among others.
The American Association for the Advancement of Science is the world's largest general scientific society and publisher of the journal Science (www.sciencemag.org) as well as Science Translational Medicine, Science Signaling, a digital, open-access journal, Science Advances, Science Immunology, and Science Robotics. AAAS was founded in 1848 and includes nearly 250 affiliated societies and academies of science, serving 10 million individuals.
---
—Luke Sacks