They arrive on a mostly empty campus in the middle of each July, about 5 percent of the incoming freshman class, waking by 7 a.m. and working until 11 p.m. for five weeks to get a jump-start on college.
"It's an absolute academic boot camp for the students," says Ivonne Cruz, director of the Educational Opportunity Fund program at TCNJ, which celebrates its 50th anniversary this year.
EOF is a statewide program that helps students with much potential but not much money, offering financial aid, tutoring, and multiple forms of support, including the summer program that bridges the gulf — exceptionally wide for some of them — between high school and college. "The program is not meant to give them a fish, but to teach them to fish," Cruz says.
The EOF program at TCNJ has an exceptionally high success rate. This year it posted its highest graduation rate yet: 76 percent of the 2014 EOF cohort graduated in 2018, beating the previous high of 65 percent in 2016.
"The program at TCNJ has a rich history of providing access and opportunity to countless EOF students over its 50 year history," says Hasani Carter, the state's acting EOF director.
In all, about 2,500 EOF students have graduated from TCNJ. "The thing I like most about them is that they're giving an awful lot of service to the community," says James Boatwright, who was director of the program for almost half its existence, from 1986 to 2010.
And some of them are spreading the lessons of EOF in broad and unforeseen ways. Here are several from the feature that original appeared in fall 2018 issue of TCNJ Magazine. 
---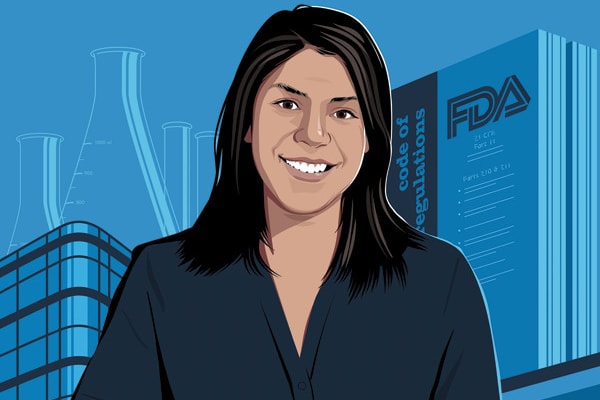 Evelyn Pereira '14
FDA food safety bullhorn 
Not long after Evelyn Pereira started working at the U.S Food and Drug Administration, eight people were hospitalized – including two people who died – from listeriosis, an infection caused by contaminated food. It was Pereira's job to help find the source of contamination and to inform consumers what to do. The outbreak was traced to a manufacturer of soft raw-milk cheese, and a recall was ordered.
"That was when the training wheels came off," she says about the Listeria outbreak in March 2017. "The first time I saw my work on CNN, I was super excited. But now I've gotten used to it."
She grew up in North Bergen, New Jersey, the youngest of three children of a father from El Salvador and a mother from Ecuador. "In high school, I was used to being one of the highest performing students, and at TCNJ it wasn't like that," she says. "My high school experience didn't prepare me for college. The EOF summer program showed me there was a bigger learning curve than I thought there would be."
She majored in biology and women's and gender studies, and spent two summers at a pharmaceutical company's research lab in Massachusetts with plans to be a doctor.
But then she traveled to South Africa with a public health communication class and saw "that there were other options than just being a doctor," she says. She started working for the FDA while earning a master's in public health at George Washington University.
Now, as an interdisciplinary scientist on a team that investigates food-borne outbreaks, she's especially popular among her friends when, say, contaminated romaine lettuce or eggs are in news, as they have been lately. "They text and call me to ask, 'What should I not eat?'" she says.
---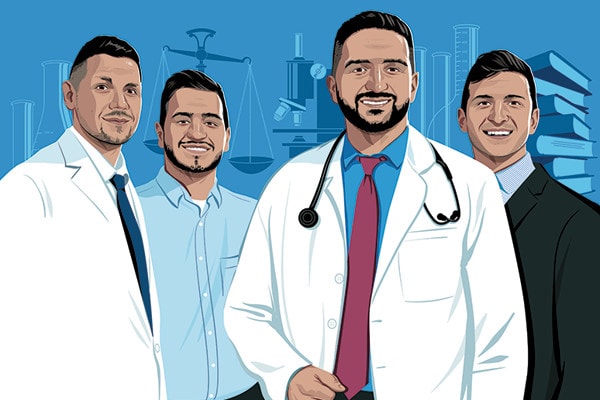 The Amers
Band of high-achieving brothers
Kamil Amer '11 was 12, the oldest of four brothers, when his family left Jordan and settled in the large Palestinian community in Paterson, New Jersey. He knew no English.
"I've always wanted to be a doctor," he says. "Ever since I was a young kid everybody would just call me Dr. Kamil."
His patients call him Dr. Kamil now too, where he is a resident in orthopedic surgery at Rutgers New Jersey Medical School. His three brothers all followed him into the EOF program at TCNJ: Kamal '12, an internal medicine resident at Thomas Jefferson University in Philadelphia; Wael '16, a law student at Seton Hall; and Rami '17, a student in the graduate program at Drexel University School of Medicine, hoping to enter medical school next year.
"When our friends were going to movies or buying new things, we were working or studying," says Kamil, who worked as a tutor as many as 30 hours a week through college and medical school, as well as starting a student-run free health care clinic. "My mother didn't care about any materialistic things. 'He got on honor roll; he got a scholarship' — that was her way to show off."
He chose orthopedics because the relationship between effort and result is so clear. "A person comes in with a broken bone, it's like instant gratification putting the bone back together," he says. "And they come back a few months later and it's like they never broke anything."
---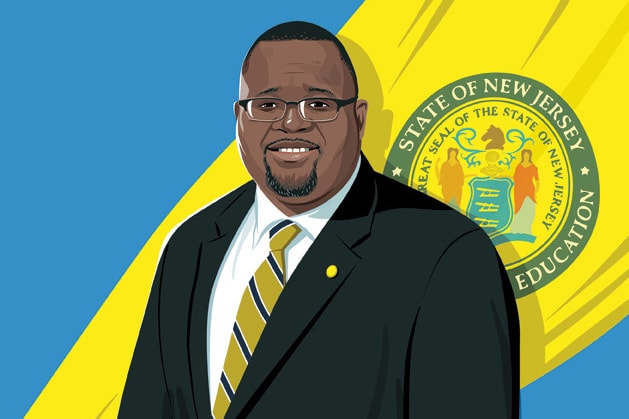 Lamont Repollet '94
State Education Commissioner 
When Lamont Repollet graduated from Carteret High School in New Jersey — his seventh school in 13 years as the oldest of eight children of two Army veterans who moved frequently in search of work — he was planning to attend Hampton University, a historically black institution in Virginia. But then the bill came.
"I just didn't have the money to go," he says. He had been admitted to the EOF program at what was then Trenton State College, but had let the deadlines pass without securing his spot there. "I was desperate, and I called up and begged Mr. Boatwright. This was a Wednesday and the program started on Saturday. He gave me a chance and said OK."
Repollet majored in communications, met his future wife in fellow student Darlene Spears '94, and after graduation worked for Prudential as a telecommunication analyst. "I was at work one day and thought, 'I don't like this. This is not me,'" he says.
What he did like was working with the kids he was coaching in basketball at Carteret High. A Trenton State alumnus told him about the alternate route program for people who hadn't majored in education but wanted to become teachers, and he was soon teaching middle school math in East Orange. He earned a master's degree in education from Kean University and a doctorate from Nova Southeastern University and was on an administrative track as vice principal at Irvington High School before heading back to his hometown, first as a middle-school vice principal and then as principal of Columbus Elementary School in Carteret. "That's where the magic started happening," he says. "We went from the lowest academic-rated school in the district to the highest."
Similar results followed at his next stops: Carteret High School, where he was principal for a decade, and Asbury Park, where he led a swift turnaround in his four years as superintendent. In January 2018, New Jersey Governor Phil Murphy chose him as the state Commissioner of Education, the first African American to hold the post.
"It all goes back to what Mr. Boatwright taught me: He gave a chance to me, so I've always thought I should always give people opportunities to be great," he says.
At his confirmation hearing before the State Senate Judiciary Committee, Repollet wore a small lapel pin: "EOF," it said.
---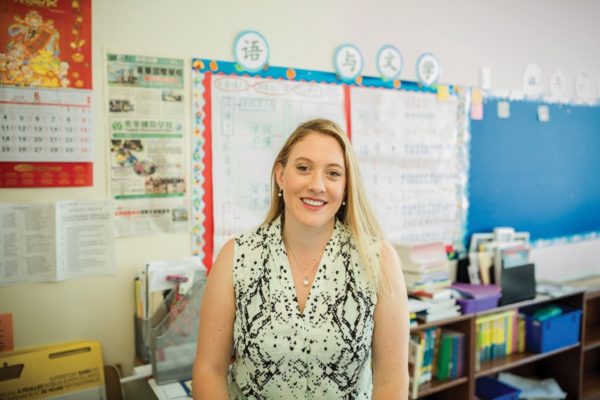 Amy Pilsbury '16
International kid influencer
Amy Pilsbury first thought about becoming a teacher when she was in second grade. In high school, an English teacher made her certain. "He pushed us to do our best in ways we'd never been pushed before," she says. "I wanted to be an influence like he was."
Money was tight, and EOF allowed her to come to TCNJ and major in early childhood education and psychology. She taught for a year in Monroe Township (New Jersey) but wanted to teach overseas before she settled into a career here. She spent last year teaching fourth graders at an international school in Shanghai, China.
"They're a lot more stressed out than my students at home would have been," Pilsbury says about an educational system that prizes hours of homework and aims students toward high-stakes tests that can make or break their futures. She signed up to return for a second year, and hopes that some of her educational philosophy might seep into theirs. "I have a more holistic view of teaching. That's what I'd like to see them start moving toward there — more of that growth mindset and being positive with the students."
Read more profiles in TCNJ Magazine.
---
—Kevin Coyne